HUNTSVILLE, Ala. — Tropical Storm Fay developed yesterday along the east coast of the United States. As of this morning, Fay continues to remain as a tropical storm with maximum sustained winds of 50 mph.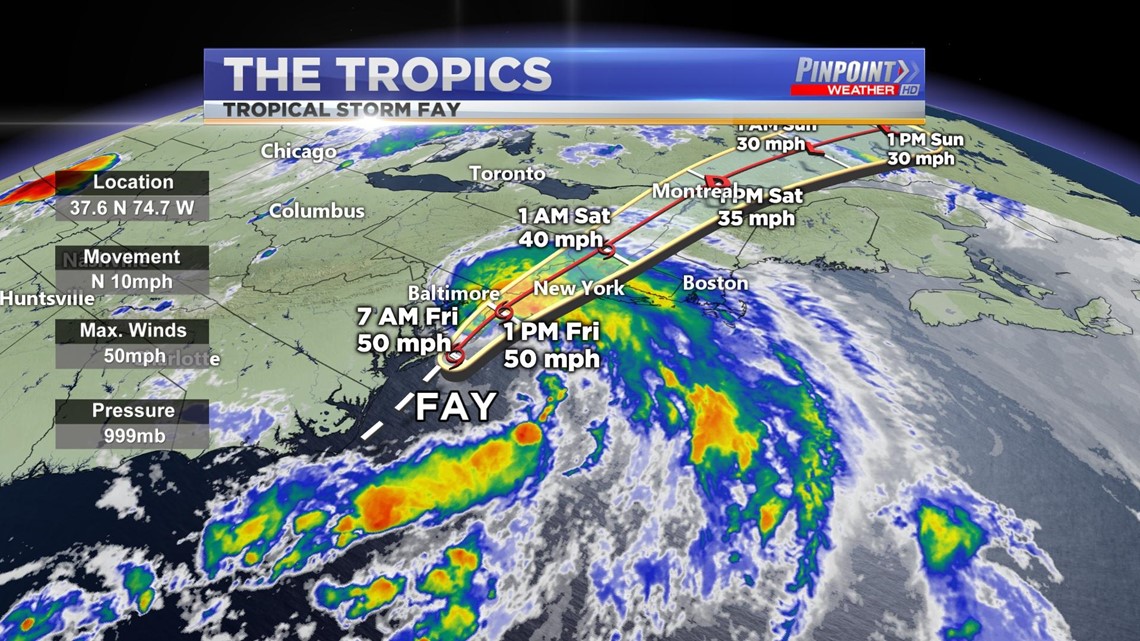 Tropical Storm Fay is the earliest named "F" storm since the Atlantic Hurricane Season of 2005. Tropical Storm Franklin formed on July 21, 2005. Tropical Storm Fay now holds the record of the earliest named "F" storm since then. The "F" named storm in a typical Atlantic Hurricane Season normally occurs sometime in September.
Although Fay will have no direct impacts to us here in the Tennessee Valley, Fay is expected to dump 2 to 4 inches or rain with isolated amounts up to 7 inches along and near the track from the lower Maryland Eastern Shore and Delaware northward into New Jersey, eastern Pennsylvania, southeast New York, and southern New England. These rains may result in flash flooding where the heaviest amounts occur. Widespread river flooding is not expected.
Tropical Storm conditions are expected along portions of the mid-Atlantic and northeast coast today and tonight, and a Tropical Storm Warning is in effect for the coasts of Delaware, New Jersey, New York, and Connecticut including Long Island. Tropical Storm-Forced Winds are expected.
By the afternoon on Saturday, Fay will weaken into a Tropical Depression and will continue to weaken as it tracks northward into Canada, downgrading back into a low-pressure system by Sunday.