HUNTSVILLE, Ala. — March 1st was the first day of Meteorological Spring. This is different from the first day of astronomical Spring which isn't for another few weeks. As Meteorologists and atmospheric scientists, we take the year and divide it into four equal quarters to make climate data a little easier to track. We still have Spring, Summer, Fall, and Winter, but they start March 1st, June 1st, September 1st, and December 1st.
Looking at data of the last 50 years, it is determined that many locations are seeing an earlier onset of Spring and then Spring is coming with more above-average days.
We just experienced a spate of winter storms and record-breaking cold air plunging across the middle of the country, precipitating the massive power failure in Texas, as well as the opening of emergency warming centers across states from Virginia to Louisiana. Locally in the Tennessee Valley we had two Winter Storms in one week that brought large accumulations of ice and snow to portions of North Alabama and Southern Middle Tennessee.
There is evidence to suggest that climate change can influence the tropospheric polar vortex, allowing the polar jet stream to break down and allow arctic air to dip into the lower latitudes. But, ready or not, March is here and so is Meteorological Spring.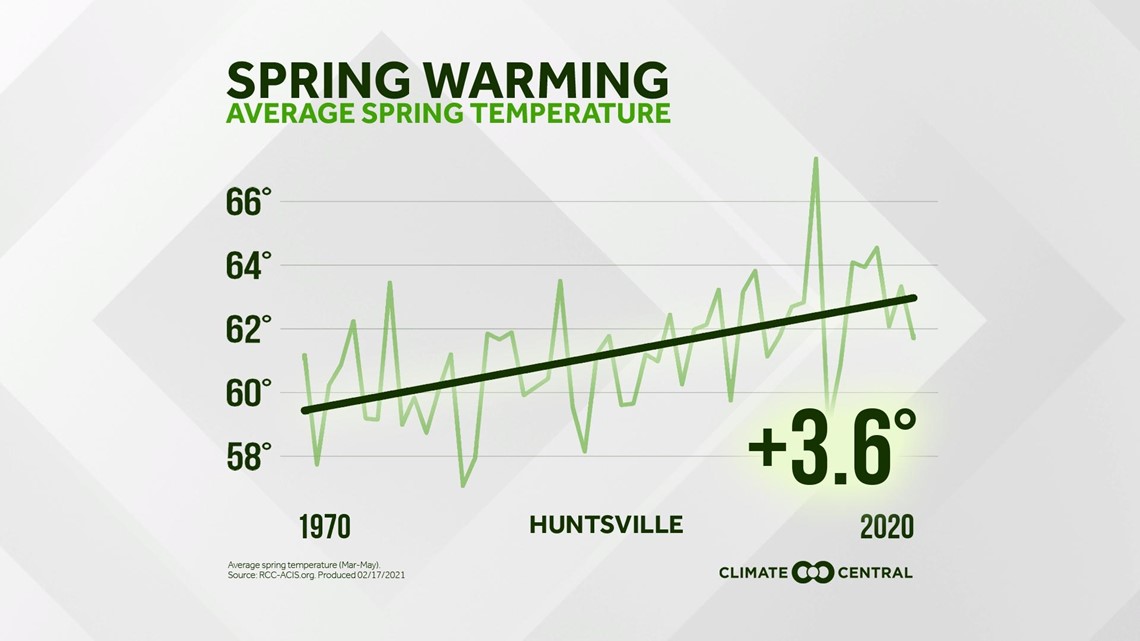 Long-term temperature trends show that, on average, spring is getting warmer. According to our analysis of 243 cities across the U.S., 120 cities (49%) have recorded an increase of 2℉ or more over the past fifty years.
Locally, the average temperature from 1970 to 2020 has gone up nearly 4°. The average spring temperature is now around 62° or 63° as opposed to the upper 50s back in the 70s. There are several factors that could lead to this rise in temperature both the fault of humans and natural warming of the surface.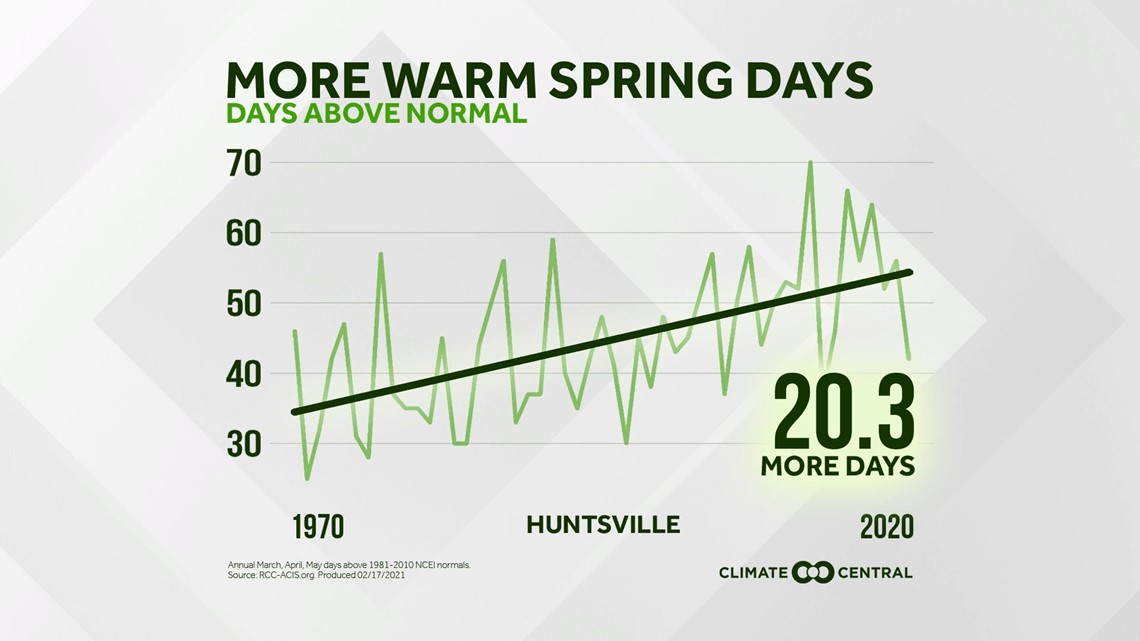 Further, 96% of cities (234) reported an increase in the number of above-normal spring days since 1970, with 81% of cities (196) reporting an increase of 5 days or more. This is of the 243 cities that were researched.
Locally we've seen a rise to 20 days where the average temperature is above normal. Now it is worth noting that this stat can be misleading. If the normal temperature is 60° and a particular day sees an average temperature of 61° then the day is classified as above normal.