HUNTSVILLE, Ala. — "The legend lives on from the Chippewa on down of the big lake they called Gitche Gumee. The lake, it is said, never gives up her dead when the skies of November turn gloomy." That's the opening line to the 1976 Gordon Lightfoot hit that went to number 2 on the charts.
On the night of November 10, 1975 the Edmund Fitzgerald met its end after the ship in the end sank to the bottom of Lake Superior.
"When suppertime came, the old cook came on deck sayin'
"Fellas, it's too rough to feed ya"
At seven PM, a main hatchway caved in, he said
"Fellas, it's been good to know ya"
The captain wired in he had water comin' in
And the good ship and crew was in peril
And later that night when his lights went outta sight
Came the wreck of the Edmund Fitzgerald"
The Edmund Fitzgerald isn't the first ship to end up at the bottom of Lake Superior, but it is one of the most recognized. It's pretty unclear what exactly happened to the ship and unlike other wrecks where crew are found, none of the 29 crew were ever found.
The Edmund Fitzgerald was under the control of Captain Ernest M. McSorley who was incredibly seasoned and used to the storms that November can bring to the Great Lakes. Captain McSorley even changed his route through Superior to plan for the impending storm.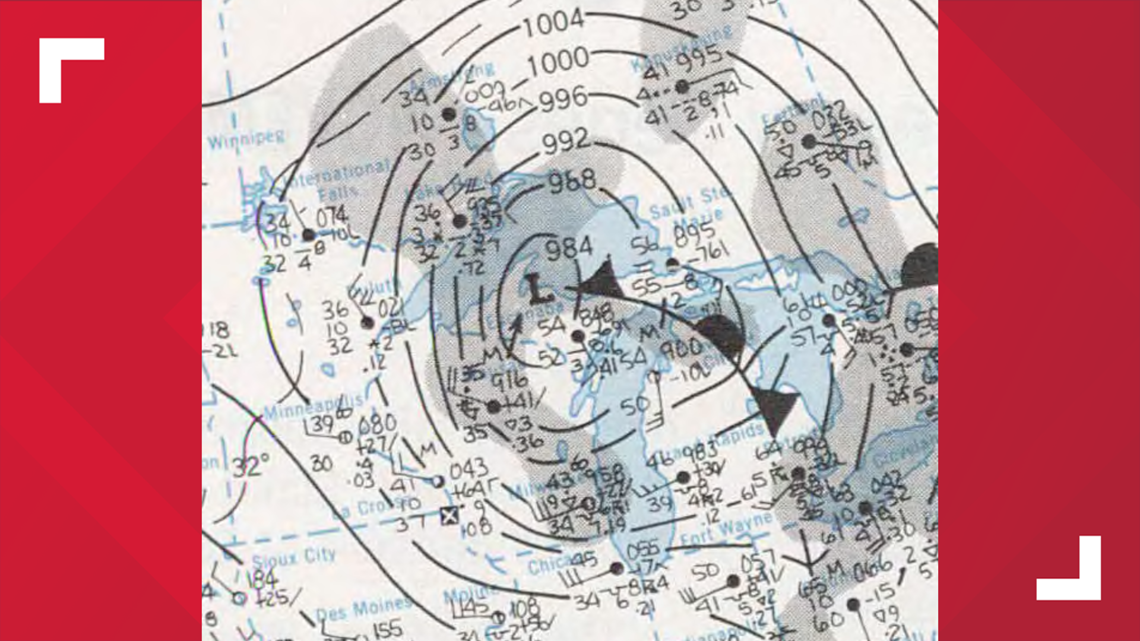 Gale warnings had been issued at 7 pm on November 9, upgraded to storm warnings early in the morning of November 10. The weather pattern featured an area of low pressure that was moving from the Great Plains and the midwest over the Great Lakes. The northerly winds allowed for ample fetch. This means the winds were able to easily move across the lakes intensifying as they did.
Just after 5:00 PM on November 10, 1975 it was reported that winds were out of the NW sustained at 58 knots with gusts to 70 knots, and waves of 18 to 25 feet.
On April 15, 1977 the U.S. Coast Guard released its official report regarding the Edmund Fitzgerald sinking in Lake Superior on 10 November 1975 with loss of life. While the Coast Guard said the cause of the sinking could not be conclusively determined, it maintained that "the most probable cause of the sinking of the S.S. Edmund Fitzgerald was the loss of buoyancy and stability thanks to waves and wind.