HUNTSVILLE, Ala. — The World Meteorological Organization (WMO) announced April 28, 2022 that Ida would be retired from the list of rotating names that rotate every six years. 94 names have been retired by the WMO including Katrina (2005), Harvey (2017), Maria (2017), and Sandy (2012). The year 2005 has the most retired names so far (5): Dennis, Katrina, Rita, Stan, and Wilma. The WMO has a rotating list of names that rotate every six years and now that Ida has been retired from the list of names, Imani will replace the name Ida for the 2027 Atlantic Hurricane Season.
Most of the retired names from the WMO start with the letter I, including Ivan, which wrecked havoc along the Alabama coastlines. Retired "I" names include Ione (1955), Inez (1966), Iris (2001), Isidore (2002), Isabel (2003), Ivan (2004), Ike (2008), Igor (2010), Irene (2011), Ingrid (2013), Irma (2017), Iota (2020) and now Ida (2021) making that 13 total names that start with the letter I to be retired.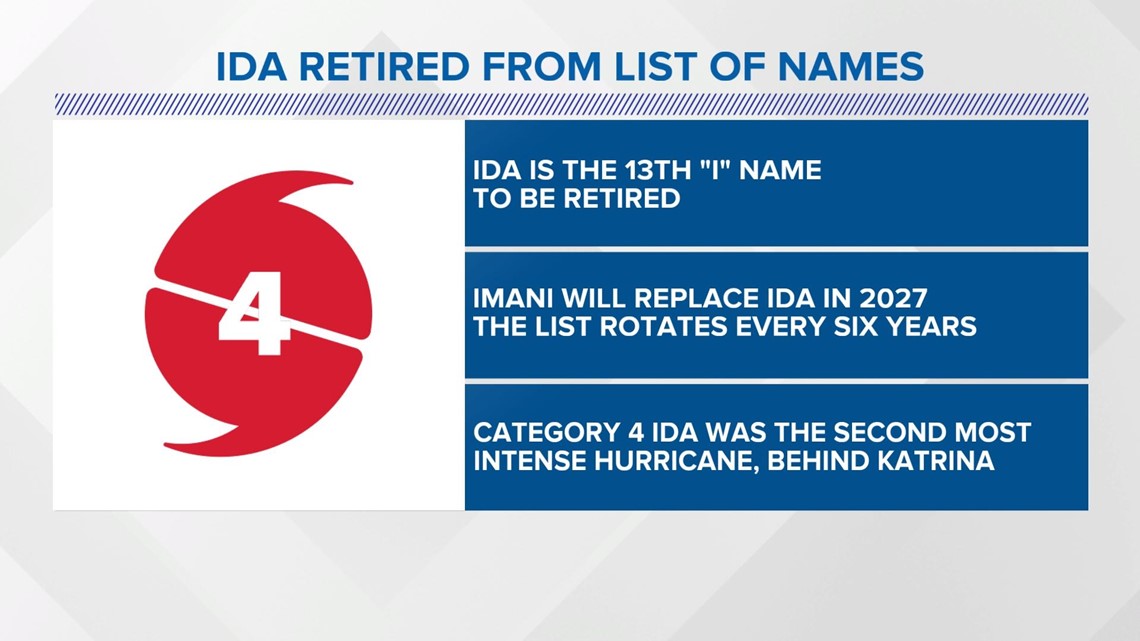 If you recall, Ida caused extreme damage to the coast of Louisiana, making landfall August 26, 2021 as a category 4 major hurricane with maximum sustained winds of 150 mph and reported wind gusts as high as 172 mph. There were 107 total reported fatalities from Hurricane Ida, including two here in the state of Alabama. Two electrical workers were working on a power grid damaged by Ida. A total of seven tornadoes touched down in Alabama too, as Ida tracked to the northwest after landfall.
Ida was the second most intense hurricane, causing $75 billion in damage, right behind Katrina, and the fourth costliest, following Katrina, Harvey, and Maria.
The 2022 Atlantic Hurricane Season will begin Wednesday, June 1 and will last until Wednesday, November 30 with the first name being Alex.