HUNTSVILLE, Ala. — Hurricane Sally officially made landfall near Gulf Shores, AL at 4:45 AM CDT as a Category 2 Hurricane on the 16th anniversary of Hurricane Ivan. Maximum sustained winds were 105 mph. The center of Sally is moving slowly near the Alabama/Florida border. Sally will continue to dump heavy amounts of rainfall throughout the afternoon, causing "catastrophic" flash flooding.
Historic and catastrophic flooding, including widespread moderate to major river flooding, is unfolding along and just inland from west of Tallahassee, Florida, to Mobile Bay, Alabama. Significant and widespread flooding is likely across inland portions of Alabama into central Georgia, and possible across western South Carolina, western and central North Carolina, and far southeast Virginia.
Life-threatening storm surge is occurring along portions of the coastline from Alabama to the western Florida Panhandle, including Pensacola Bay.
Hurricane Conditions are expected to continue this afternoon within portions of the Hurricane Warning area in southern Alabama and the western Florida panhandle.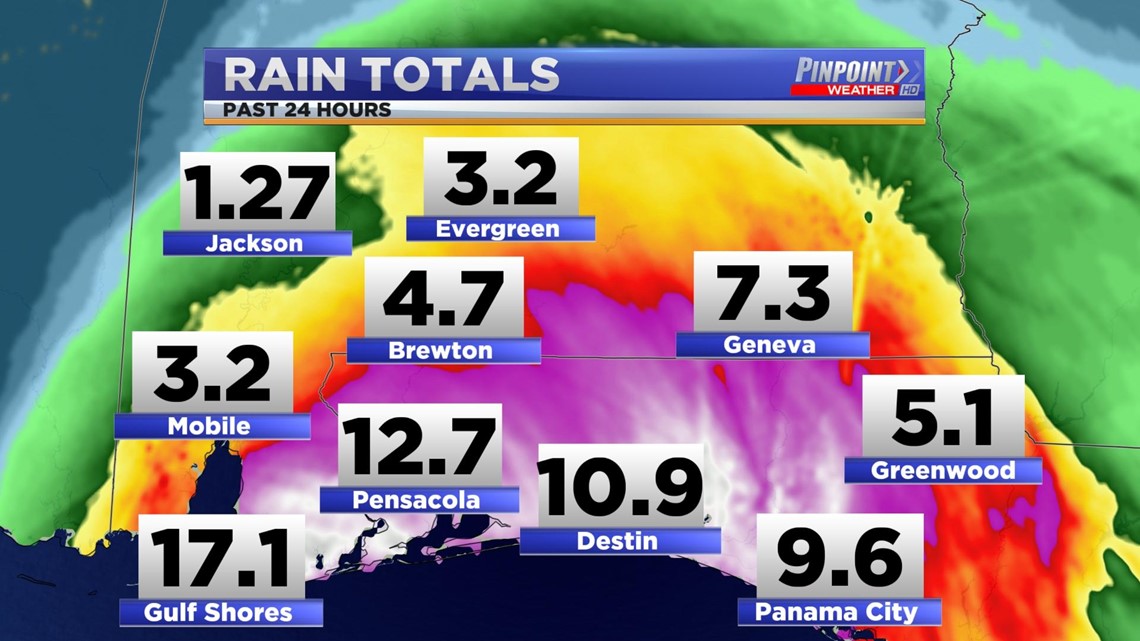 Rainfall amounts over the past 24 hours are extreme. Gulf Shores, AL, where Sally made landfall, has received over 17 inches of rainfall and Pensacola has received over 12 inches of rainfall. The National Hurricane Center says that 8-12 inches of additional is to be expected throughout the afternoon.
Sally is continuing to cause extreme damage, especially in Orange Beach and Gulf Shores, AL where the center of Sally passed through earlier this morning. Sally is continuing to creep through AL/FL at 5 mph with maximum sustained winds of 80 mph.
Sally will continue to bring tremendous amounts of rainfall along the southern portion of Alabama this afternoon and will continue to move to the NNE, eventually making it into Georgia by Thursday. Sally will continue to also downgrade in strength and become a tropical storm later this afternoon.