HUNTSVILLE, Ala. — I'm sure some folks wish we could have had the Tuesday weather on Monday. Memorial Day was one of the coolest in recent memory. Some folks didn't get out of the upper 60s.
We were much warmer Tuesday afternoon with ample sunshine. Temperatures climbed into the mid-80s across the Tennessee Valley. This is seasonal for this time of year.
Wednesday morning will be warm with temperatures sitting in the low and mid-60s. Wednesday afternoon will bring temperatures in the mid-80s. Really, it'll be nice weather in the early days of Summer Vacation for the kids.

Wednesday does bring the opportunity for an isolated shower or stomr across North Alabama and Southern Middle Tennessee. This is where we mention our Summer Weather Pattern. Many will be dry, but note that rain is in the forecast. Rain will be in the forecast for the next several days. Your house might get rain several days in a row, but it might not.
7 Day Forecast

Heat Safety

As we're heading towards summer - which means extremely hot temperatures and high heat indices some days here in the Tennessee Valley - it's important to remember and practice heat safety.
Limit your time outdoors is the first safety tip. If you have to be outdoors, it's a good idea to wear light-colored clothing. Dark colored clothing tends to absorb heat more than light colored clothing.
Staying hydrated with water is the most important tip to remember heading into the summer. Heat makes us sweat, therefore loosing water in our bodies, making us dehydrate quicker. If you do like to exercise outdoors, like walking or running, it's a good idea to either exercise in the morning or later in the evening when temperatures will be cool.
Always check on your elderly family members, neighbors and friends and make sure your outdoor pets have plenty of shade and plenty of water. Keeping the blinds/shades closed will also help to eliminate heat in your home.

Heat exhaustion and heat strokes are not uncommon here either and it's very important to know the difference, especially if you're working outside a majority of the time this summer.
Heat exhaustion symptoms include: dizziness, thirst, heavy sweating, nausea and weakness. Heat stroke symptoms can include all of the above in addition to confusion, unconsciousness, and lethargy.
Remember to drink plenty of water and stay cool/indoors when you can.
2023 Atlantic Hurricane Season

We're less than a month away from The 2023 Atlantic Hurricane Season. The season begins June 1st and it's never too early to prepare for it, especially along the Gulf Coast.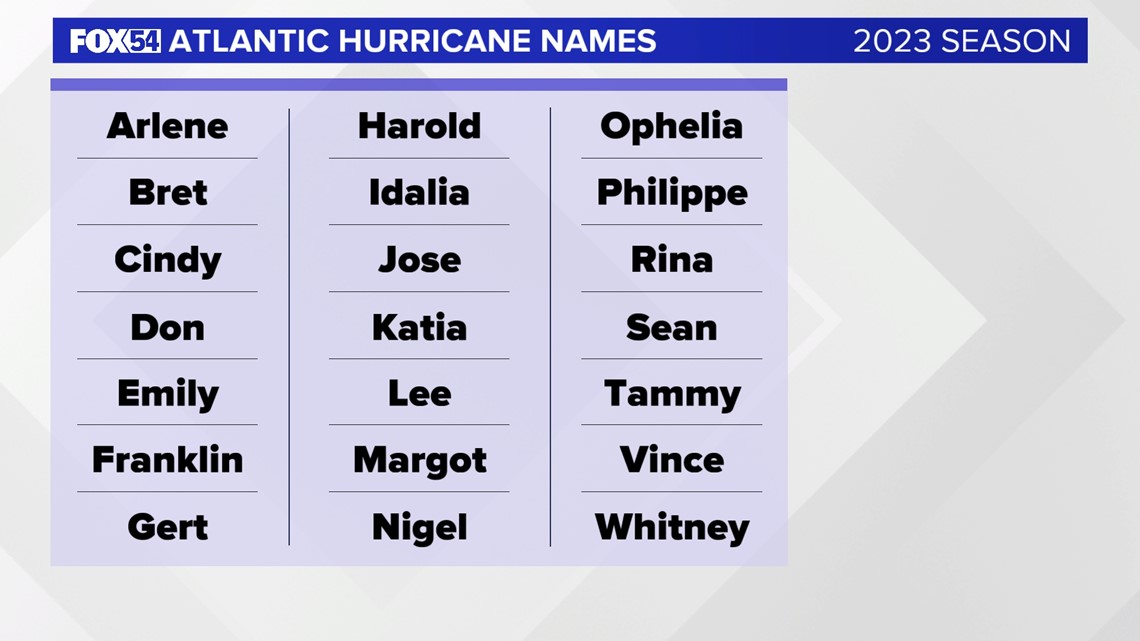 There are 21 names on the list, which uses every letter of the alphabet except for Q, U, X, Y, and Z. This year names are Arlene, Bret, Cindy, Don, Emily, Franklin, Gert, Harold, Idalia, Jose, Katia, Lee, Margot, Nigel, Ophelia, Philippe, Rina, Sean, Tammy, Vince, and Whitney. The last time this list of names was used was in 2017, retiring Harvey, Irma, Maria, and Nate.
Hurricane season's list of names rotates every six years. If a storm, such as Katrina, Ivan, Michael, and Ida, becomes destructive and/or deadly, the World Meteorological Organization will retire that name.
Your Tennessee Valley Weather Pics