HUNTSVILLE, Ala. — It was a beautiful Tuesday afternoon across North Alabama and Southern Middle Tennessee. We got plenty of sunshine and temperatures in the mid-80s. Temperatures climbed into the mid and upper 80s this afternoon which we all know is well above where we should be in early October.
We'll be warm tonight with lows dropping into the low and mid-60s. Wednesday afternoon will bring temperatures into the mid and upper 80s yet again. The only difference is that I foresee more clouds across the Tennessee Valley Wednesday afternoon. The clouds will really increase Wednesday night and Thursday morning. This increase in cloud cover is ahead of much needed rain.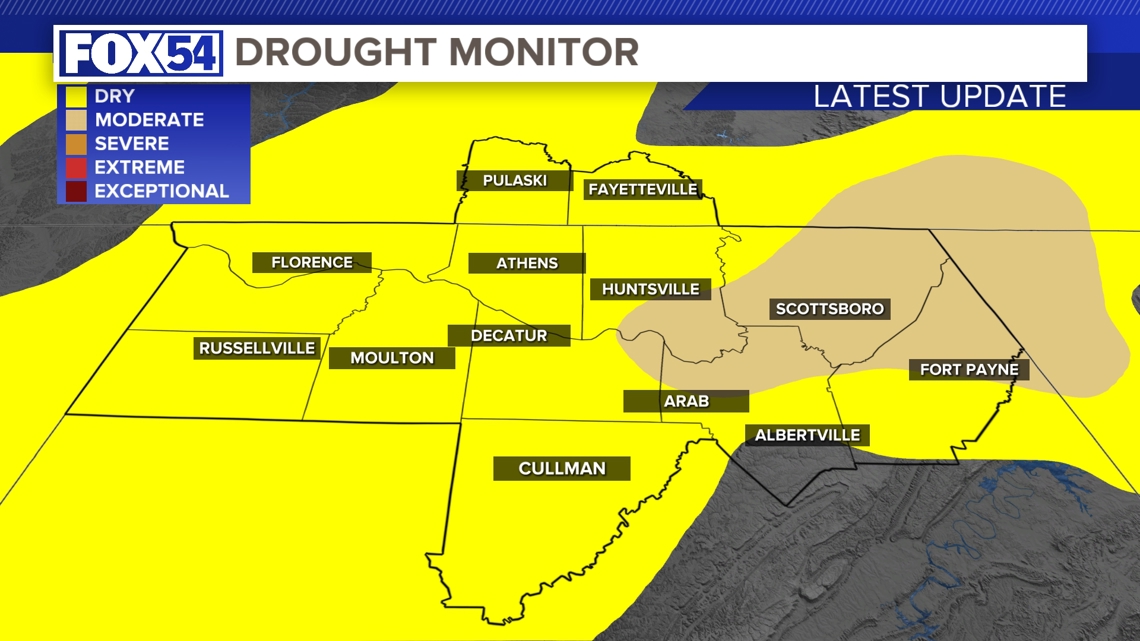 The Huntsville International Airport has not seen measurable rain since September 16th. On that day they saw 0.30" of rain. In this case my definition of measurable is 0.10". Drought conditions are the worst across NE Alabama where Moderate Drought Conditions are being noticed. Everyone else is in the Abnormally Dry Category.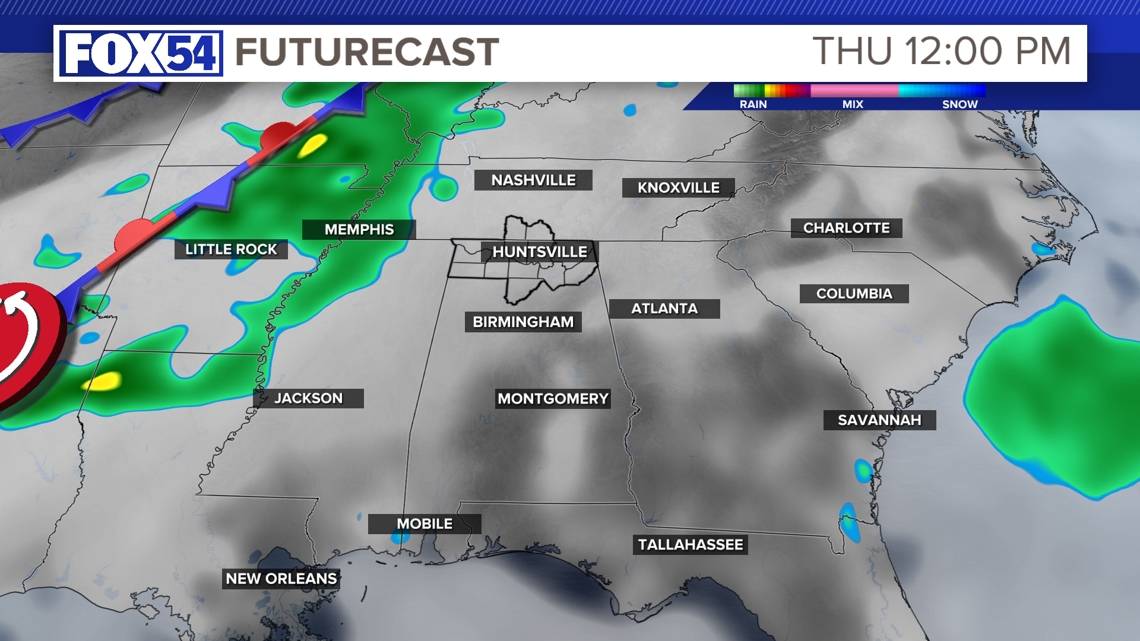 A cold front is expected to move through the Tennessee Valley Thursday night and then into Friday. This is where we get the chance of rain and the increase in clouds mentioned above. Unfortunately, it does not appear we'll get anywhere close to the rain needed to fix our drought conditions. This cold front will only bring scattered showers to the Tennessee Valley.
Why the cold front is going to do is drastically drop temperatures as we head into the weekend. Temperatures on Saturday and Sunday may only climb into the upper 60s and low 70s.
7-Day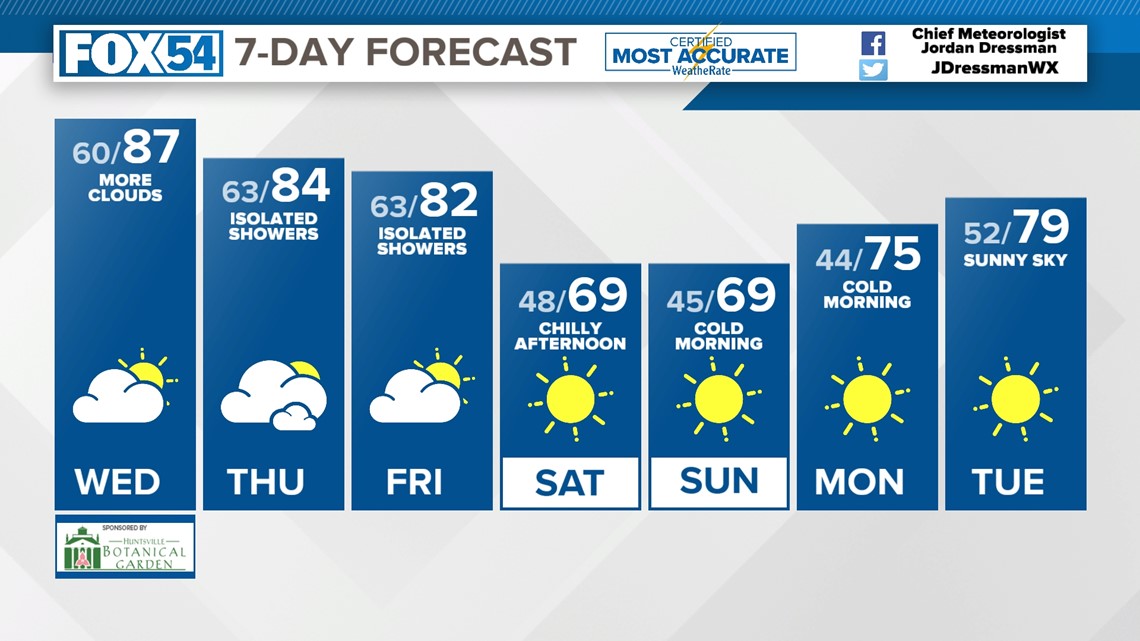 2023 Atlantic Hurricane Season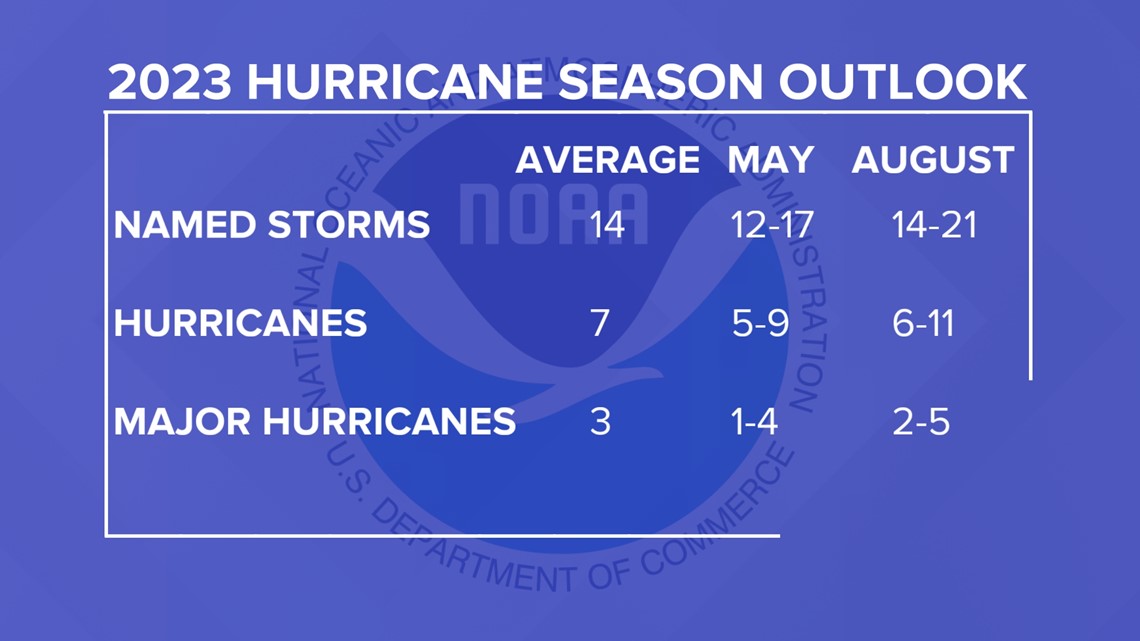 The 2023 Atlantic Hurricane Season is now underway and according to NOAA, we're expected to now see 14-21 named storms named storms from the previous forecast that came out in May, which was originally 12-17 named storms, 6-11 of those potentially turning into hurricanes, and 2-5 of those hurricanes becoming major category 3+.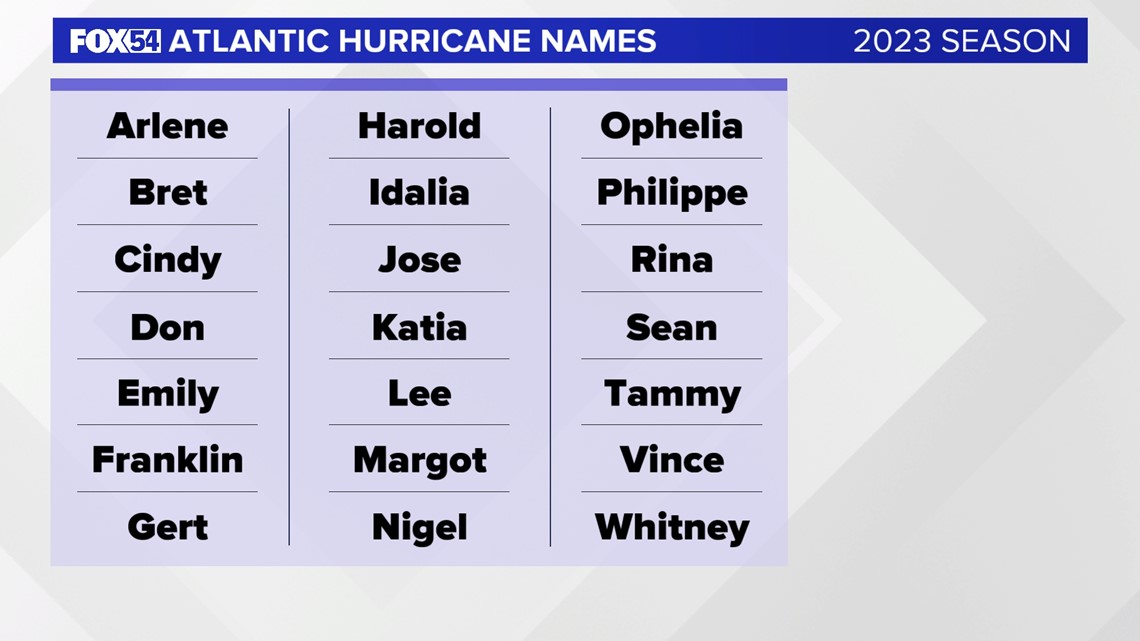 There are 21 names on the list, which uses every letter of the alphabet except for Q, U, X, Y, and Z. This year names are Arlene, Bret, Cindy, Don, Emily, Franklin, Gert, Harold, Idalia, Jose, Katia, Lee, Margot, Nigel, Ophelia, Philippe, Rina, Sean, Tammy, Vince, and Whitney. The last time this list of names was used was in 2017, retiring Harvey, Irma, Maria, and Nate.
Our first hurricane of the season occurred July 22, and that was Hurricane Don.
Hurricane season's list of names rotates every six years. If a storm, such as Katrina, Ivan, Michael, and Ida, becomes destructive and/or deadly, the World Meteorological Organization will retire that name.
Make sure to join our Facebook group, The Tennessee Valley's FOX54 Weather Network!