HUNTSVILLE, Ala. — The Storm Prediction Center has upgraded ALL of the Tennessee Valley to a rare, HIGH RISK (level 5/5) for severe weather this afternoon and evening. This high risk mainly includes areas along and to the west of I-65.
A PDS (Particularly Dangerous Situation) Tornado Watch has been issued for the entire Tennessee Valley until 8:00 PM.
"A TORNADO OUTBREAK IS EXPECTED TODAY INTO EARLY THIS EVENING ACROSS THE SOUTHEAST" is the wording used from the Storm Prediction Center in Norman, OK.

Widespread, severe thunderstorms will have the capability to produce strong (EF-2+), long-track tornadoes, a few violent (EF-4+) tornadoes as well as damaging wind gusts in excess of 70 MPH. Not only will we be dealing with a damaging wind threat and tornado threat, flooding will also be an issue as the Tennessee Valley already has over-saturated soils in most locations. Excessive rainfall is expected, and any wind gust will have the potential to easily knock trees and powerlines down because of this.
There will be two rounds of rain/storms to move through during the day and night today. The first round of storms started around 3 AM and will last until around 10 AM ahead of the warm front. The first round will bring the potential for a few marginally severe storms that will be capable of producing heavy rainfall/flooding and localized damaging winds.

The second round of rain/storms will occur in the afternoon and this will be the main window for severe weather that will be associated with a low pressure system and a cold front to follow. This will occur mid-afternoon (12 PM) and will last until late tomorrow night (11 PM). Damaging winds, tornadoes, heavy rain/flooding, and large hail will all be a possibility within this round of storms.
Please don't get caught up on the colored categories. A regional outbreak of severe weather is to be expected tomorrow. Have your safety plan in place before the arrival of tomorrow's storms as well as have multiple ways to receive warnings if they become issued (NOAA weather radio, smart phone, TV, etc.). Periodically check in with your local officials and broadcast meteorologists to stay up to date with the very latest.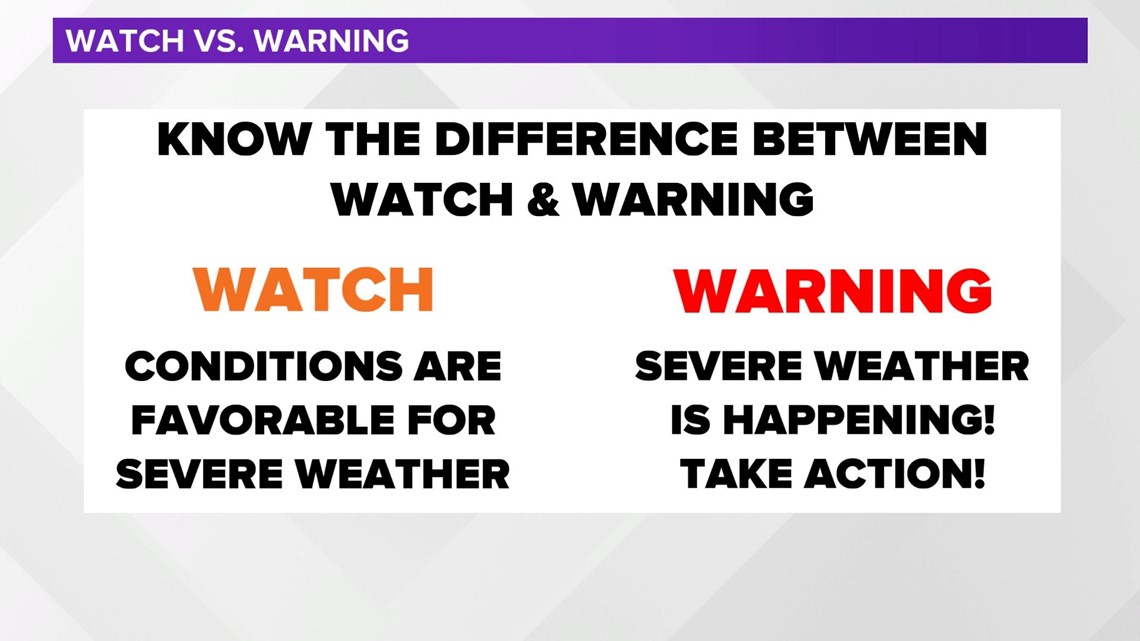 CURRENT WATCHES:
A flood watch is in effect for the Tennessee Valley until 1:00 AM tomorrow. 2-4" of rain is expected with locally higher amounts possible. This will cause flash flooding as well as rises on rivers, creeks, & streams. Never drive through flooded roadways. Turn around, don't drown!

A wind advisory is also in effect for the Tennessee Valley until 1:00 AM tomorrow. Wind gusts up to 50 MPH is to be expected. Downed trees and power outages due to downed power lines are expected as well as unsecured objects outdoors could be blown away. Tie down or bring inside unsecured outdoor objects and use caution while driving.