HUNTSVILLE, Ala. — For the first time since 2018 the NASA Super Guppy touched down at the Marshall Space Flight Test Center. On the plane was an impressive piece of cargo.
What's on the aircraft today is about a five foot tall slice of the SLS rocket…it connects the top of the space launch system rocket with the bottom of Orion Space Capsule
Because the top and the bottom of the system are different diameters this adapter was required, but the adapter brought a shoebox-size bonus.
"That gave us an opportunity with some space to fly these secondary payloads which are small little cube sats that get launched out into space and because we're going all the way to the moon we can take them a long ways."
These cube sats all have different objectives. Some will go to deep space. One will attempt to be the smallest rocket to ever land on the moon and another will attempt to be the smallest satellite in space. As cool as the adapter is, the plane hauling it from Florida to Marshall is just as cool. One of its coolest features is simply its appearance.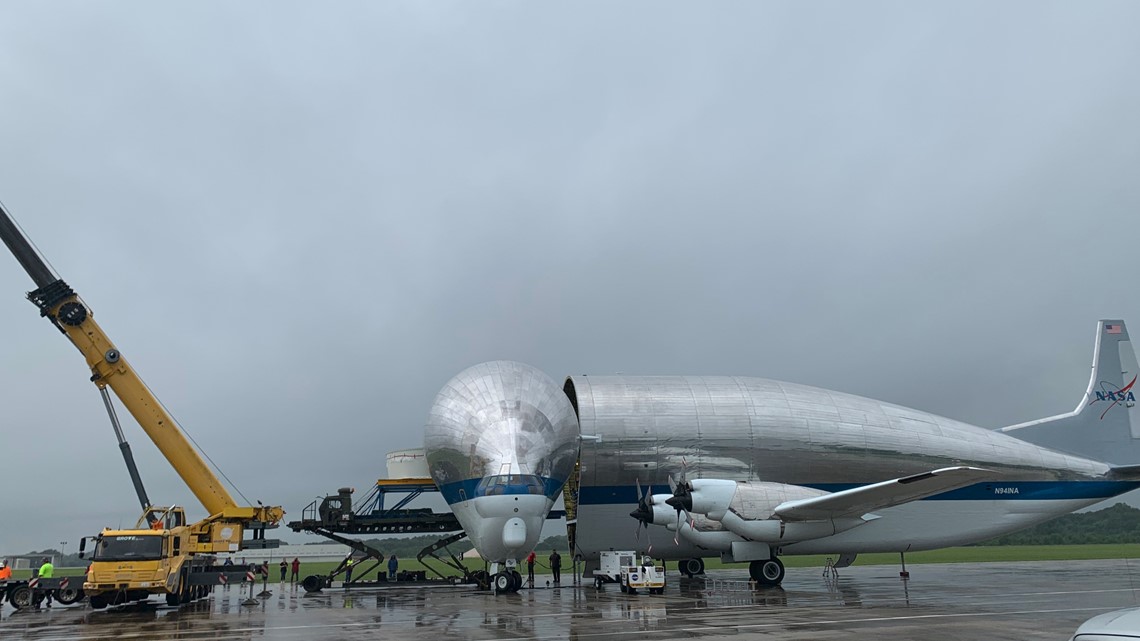 "The Super Guppy gets its unique appearance from its oversize cargo bay and what that means is that it can carry cargo that is much larger than other aircraft can accommodate so we can take cargo up to 25 feet in diameter."
The Super Guppy isn't the easiest plane to fly requiring a lot of manual effort and coordination. The wings, tail, and cockpit come from a donor aircraft which was the KC97 originally designed in the 40s. The Super Guppy actually dates back to the 50s and 60s. The only component unique to the Super Guppy is the oversize fuselage.
"You can call it a hodgepodge you can call it a Frankenplane it is a unique airplane yes."
Seeing a Super Guppy is a rare sight. So rare, in fact…
"This is the last of a group of Guppy Aircraft and the only one that is still flying. There have been several different Guppy Aircraft going back to the 60s, but this is the last one built and the only one still flying."