MONTGOMERY, Ala. — Mercer University and the University of North Alabama will meet in the ninth annual FCS Kickoff at the historic Cramton Bowl in Montgomery, Alabama on Saturday, Aug. 26 to kick off the 2023 college football season. The game time, ESPN network designation and ticket information will be announced at a later date. It will be the first appearance in the FCS Kickoff for both programs.
Mercer, the home team, had one of the nation's most high-powered offenses in 2022. The Bears set numerous team and individual records while leading the Southern Conference with 38.2 points per game and placing 12 players on the all-conference team.
Mercer was ranked in the AFCA Top 25 the entire season for the first time in program history. The Bears earned their highest ranking ever (No. 11) and finished the season ranked No. 21 in the poll.
"We're excited to be playing in the first college football game of the season," said Mercer head coach Drew Cronic. "This is a great opportunity to showcase our football program and the entire FCS."
North Alabama will begin a new era in the FCS Kickoff as head coach Brent Dearmon will make his head coaching debut for the Lions.
"Our staff and players are excited about the opportunity to play on a national stage in Montgomery for the FCS Kickoff game," said Dearmon. "This will help us in so many ways as a program for years to come. Playing a first-class opponent will be a great challenge for us as well."
A native of Saraland, Ala., Dearmon served as offensive coordinator at Kansas, Middle Tennessee and Florida Atlantic the last three seasons. Previously the head coach at B.C. Rain High School (2011-12) and Bethel College (2018), his alma mater, Bethel went 10-0 in his lone season and ranked second in NAIA, scoring 55 points per game.
Mercer reinstated football in 2013 after a 72-year absence.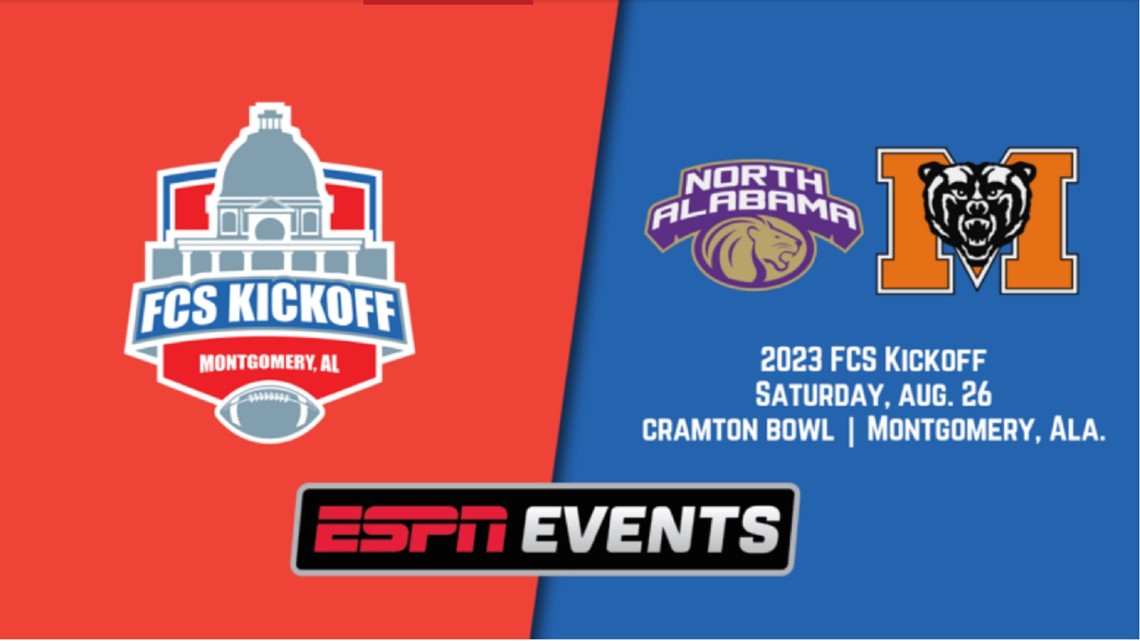 "This is a tremendous opportunity for Mercer University and our football program," said Mercer director of athletics Jim Cole. "To work with ESPN and the city of Montgomery to kick off the college football season on a national stage is something we couldn't pass up."
UNA recently made the transition to FCS after a successful stint at the Division II level. The Lions won three straight national championships from 1993-95.
"Participating in the FCS Kickoff is a showcase opportunity for North Alabama athletics and the university as a whole," said UNA director of athletics Dr. Josh Looney. "Bringing the new-look Lion football program to Alabama's capital city, while participating in a nationally-televised game, offers an incredible platform to display the newest Division I football team and fastest-growing university in the state. We are thankful to Johnny Williams and ESPN for the invitation to kick off our 2023 season in Week 0 and join this outstanding event."
Owned and operated by ESPN Events, the FCS Kickoff made its debut on Aug. 23, 2014 when No. 1 Eastern Washington defeated No. 17 Sam Houston State 56-35 in Cheney, Washington. The 2023 FCS Kickoff will be the sixth played at Cramton Bowl in Montgomery. Jacksonville State, which defeated Chattanooga 27-13 in the first game on Aug. 26, 2017, earned a 42-10 win over Stephen F. Austin in last year, which marked the JSU head coaching debut for Rich Rodriguez.
ESPN Events, a division of ESPN, owns and operates a portfolio of collegiate sporting events nationwide. In 2022, the 32-event schedule included three early-season college football kickoff games, 17 college bowl games, 11 college basketball events, and a college softball event, which account for approximately 400 hours of live programming, while reaching nearly 64 million viewers and attracting over 800,000 annual attendees. With satellite offices in more than 10 cities across the country, ESPN Events builds relationships with conferences, schools and local communities, as well as providing unique experiences for teams and fans. For more information, visit the official website, Facebook, Twitter or YouTube pages.
FCS KICKOFF ALL-TIME RESULTS:
Aug. 23, 2014 Eastern Washington 56, Sam Houston State 35 (Cheney, Washington)
Aug, 29, 2015 Montana State 38, North Dakota State 35 (Missoula, Montana)
Aug. 27, 2016 North Dakota State 24, Charleston Southern 17 (Fargo, ND)
Aug, 26, 2017 Jacksonville State 27, Chattanooga 13 (Montgomery)
Aug. 25, 2018 North Carolina A&T 20, Jacksonville State 17 (Montgomery)
Aug. 26, 2019 Youngstown State 45, Samford 20 (Montgomery)
Aug. 29, 2020 Central Arkansas 24, Austin Peay 17 (Montgomery)
Aug. 27, 2022 Jacksonville State 42, Stephen F. Austin 10 (Montgomery)
* The 2021 FCS Kickoff was cancelled due to COVID