NEW YORK — Former Auburn All-American Charles Barkley has been named to the NBA 75th anniversary team. The announcement comes as the NBA celebrates its' 75th anniversary season
Although he was initially thought to be undersized to some at 6-foot-6 to play his position, Charles Barkley became one of the NBA's best power forwards ever. Known for his tenacious rebounding and low-post scoring, Barkley was equally deft at running or finishing a fast break and was known for his solid court vision.

Career
After an All-American college career at Auburn, Charles Barkley entered the 1984 NBA Draft as a junior and was taken by the 76ers with the fifth overall pick. Barkley joined a team loaded with veteran stars such as Julius Erving, Moses Malone and Maurice Cheeks -- players who took Philadelphia to the 1983 NBA championship. Unfazed, Barkley averaged 14.0 ppg and 8.6 rpg and earned a berth on the NBA All-Rookie Team.
Nicknamed the "Round Mound of Rebound," many considered Barkley an undersized power forward with rebounding as his only discernible basketball skill. But he would soon establish himself as a reliable scorer in his eight seasons with the 76ers. The team's best showing during his tenure was in his first year when the Sixers went 58-24 in the regular season and advanced to the 1985 Eastern Conference finals, where they lost to the Boston Celtics in five games.

After several disappointing early-round playoff defeats, the Sixers failed to make the postseason in 1991-92 and Barkley was traded to the Suns, where he found new life in Phoenix. In his first season with the Suns, Barkley led Phoenix to the league's best record of 62-20 and a berth in the 1993 NBA Finals, where the Suns lost to Michael Jordan and the Chicago Bulls in six games.

Barkley took home NBA MVP honors in 1992-93, becoming only the third player to win league MVP in the season after being traded. He averaged 25.6 ppg, 12.2 rpg, 5.1 apg and 1.6 spg. Barkley was brilliant in the run to The Finals, averaging 26.6 ppg and 13.6 rpg in 42.8 mpg in the playoffs, including a mesmerizing 44 points and 24 rebounds in Game 7 of the Western Conference finals against the Seattle SuperSonics.

Barkley was an 11-time All-Star and took home MVP honors at the 1991 NBA All-Star Game in Charlotte as he led the East to a 116-114 win over the West. He scored 17 points and hauled in 22 rebounds, the most rebounds in an All-Star Game since Wilt Chamberlain's 22 in 1967.

Barkley was named to the All-NBA team 11 times and led the league in rebounding in 1987, averaging 14.6 rebounds per game. In his 16-year career, Barkley averaged 22.1 points, 11.7 rebounds and 3.9 assists while shooting 54.1% from the field. Along with Chamberlain, Kareem Abdul-Jabbar, Karl Malone, Tim Duncan and Kevin Garnett, Barkley is one of only six players in NBA history to have compiled at least 20,000 points, 10,000 rebounds and 4,000 assists.

Although he last played for the 76ers in 1991-92, Barkley still ranks among the franchise's all-time leaders. To date, he is No. 5 in scoring and steals, No. 1 in offensive and defensive rebounds (and No. 3 in rebounding overall), No. 7 in blocks and No. 4 in free throws made and attempted.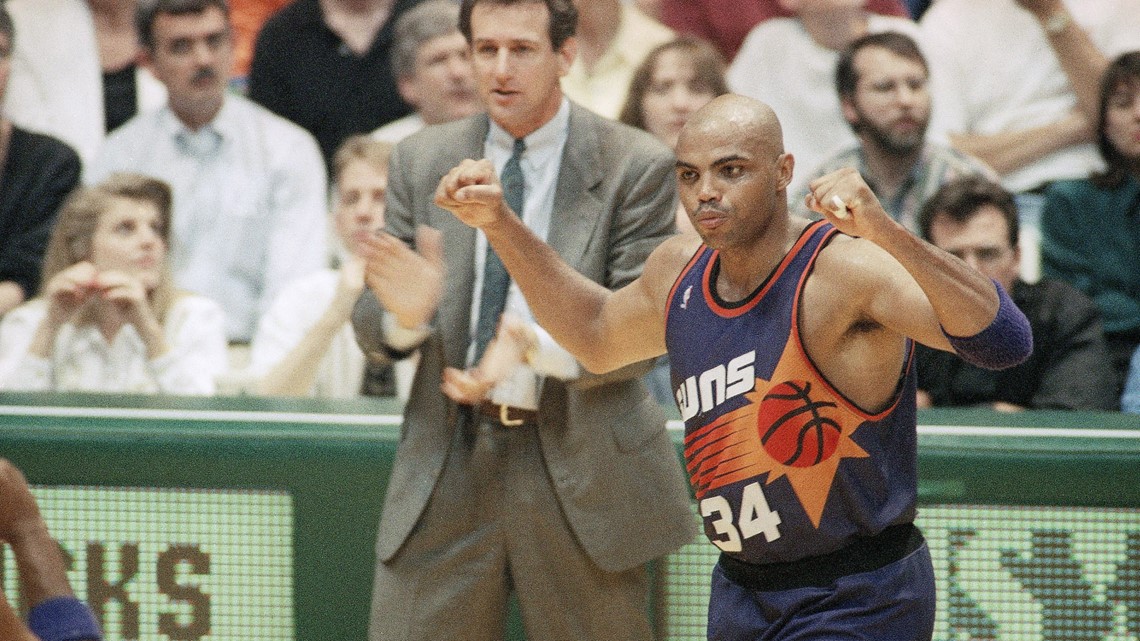 A beloved figure on and off the court for his honesty and entertaining manner, his legacy as an NBA player led to his No. 34 being retired by both the 76ers and Suns after his playing career. He went from a successful playing career to a successful one in broadcasting, serving as the loquacious, outspoken voice of "Inside the NBA" on Turner Sports.

Statues of him were erected in both Philadelphia and on the Auburn campus and his No. 34 is in the Suns' Ring of Honor, too. He was inducted into the Naismith Memorial Basketball Hall of Fame in 2006 and was named one of the 50 Greatest Players in NBA History in 1997.