There's no denying this football season will be one for the history books.
Things will undoubtedly look different this year. A lot of fans won't even get to experience being in a stadium.
But let's face it, at one point we were all sitting on pins and needles wondering if there would even be SEC Football this fall.
"It's been a while coming," said Alabama head coach Nick Saban. "But now our team has an opportunity to create their identity of who this team wants to be."
As this Alabama team creates their own identity, one thing that will for sure look different this year is the guy under center. We've assumed that Mac Jones would get the starting nod, and today it was made official as coach Saban and his staff released the depth chart ahead of Saturday's game.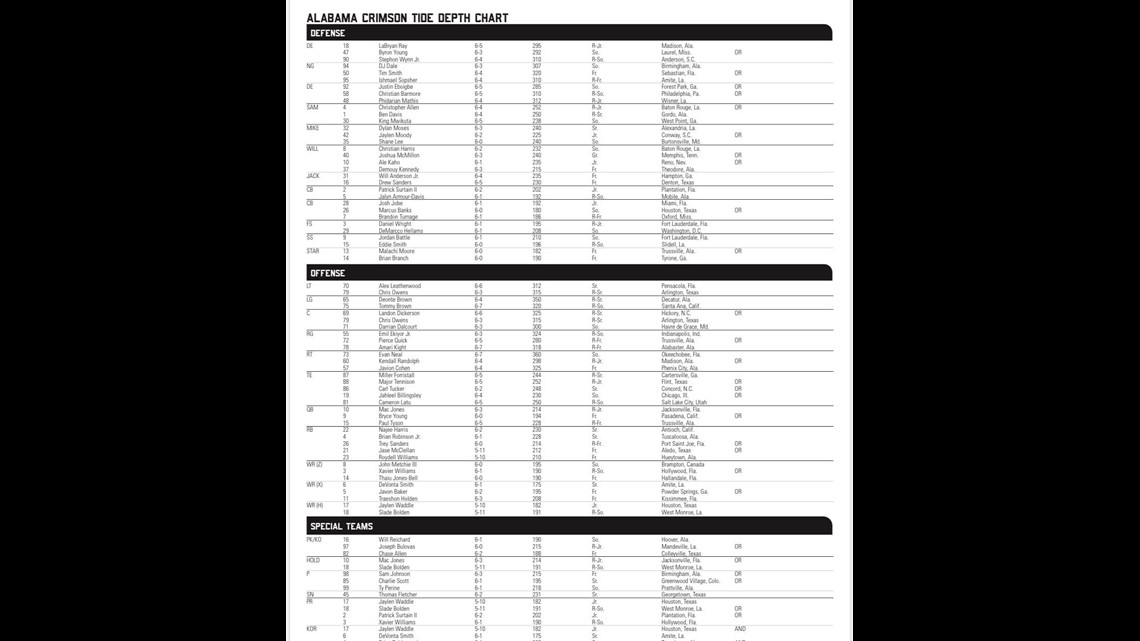 "Mac has had a really good camp, he played well in the last scrimmage, he's done a good job at taking the leadership role," said Saban. "I think it's important that he plays within himself and just do his job."
Coach Saban said having more experienced guys on offense like Jaylen Waddle, Devonta Smith, and Najee Harris will ultimately help Mac develop into the quarterback he needs to be.
"I think the players around him know how important it is for them to do their jobs so the quarterback can function effectively," said Saban. "I think it's going to be a combination of all the guys that we have because we do have some experienced players on offense that are very capable of doing things the right way so it makes it a little easier on the quarterback."
After losing five defensive guys to the NFL Draft, Saban knew they were going to need some of the younger guys to step up this season.
And though it's not very often you see true freshmen getting the starting nod, that's the case for Tide linebacker Will Anderson and defensive back Malachi Moore.
"Both players had very good camps, they're both good competitors," said Saban. "They were able to learn and grow in the system very quickly and we needed some players to come through as young players in certain positions and these two guys certainly did that."
Coach Saban said as of now there are no players out due to COVID reasons but that could change as they are testing players almost everyday.
The Tide will be taking on Missouri this Saturday at 6 p.m. on ESPN.