North America's most advanced additive manufacturing facility opens in Tanner Wednesday.
The Emerging Technology Center in Tanner is an investment by Carpenter Technology. They say the 500,000 square foot facility will be the "only AM facility in North America with true end-to-end capabilities."
Carpenter Technology is investing more than $50 million in the ETC and it's expected to create about 60 jobs over the next five years. From beginning to end, the ETC puts the whole additive manufacturing, or 3D printing technology, process under one roof. 
"No other facility in the world has the capabilities that this facility has," said Ben Ferrar, general manager of Carpenter Additive. "No longer we're crossing our fingers and hoping."
Bigger picture, the facility is strengthening the industries 3D printing supports, such as aerospace and the medical field. It also means helping people in ways that couldn't be done before.
"You can take light weighting which gives you fuel savings so you get benefits in terms of CO2 and in terms of cost in flight," Ferrar explained. "You can make porous structures that allow bone to grow into the parts more easily. And also you can start to make custom implants."
The market for global additive manufacturing parts is projected to be a quarter of a trillion dollars in a decade. Additive manufacturing is being called the fourth Industrial Revolution.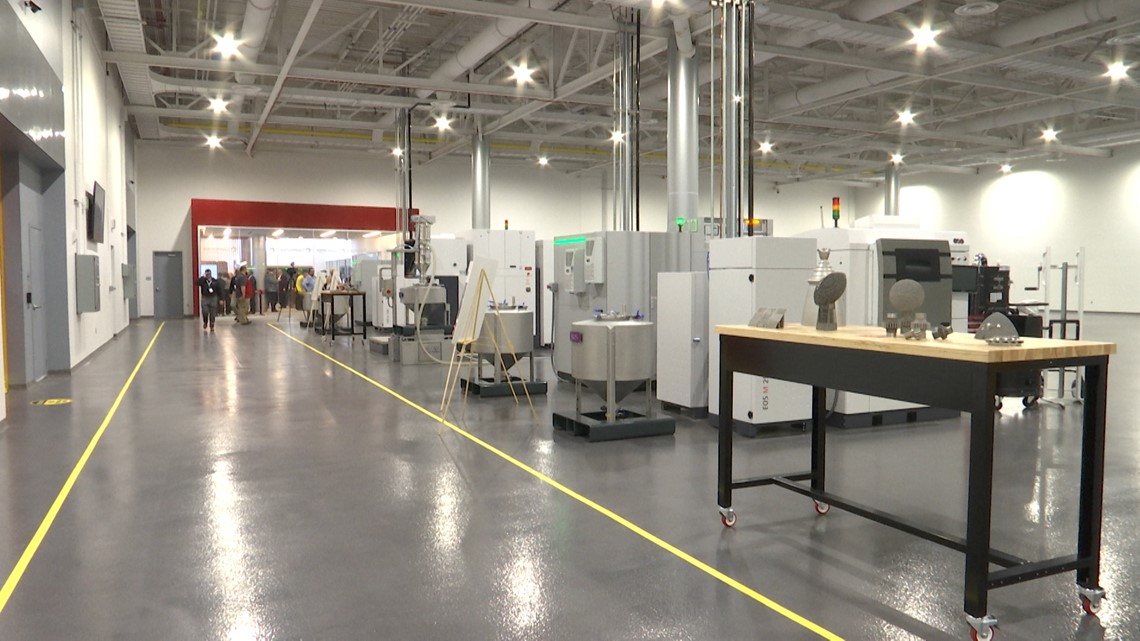 Here is what the company says its plans for the facility are:
• Have capabilities to atomize a range of metal alloys into powder.
• Utilize AM technology (3D metal printing) to convert powders into parts.
• Introduce part finishing with state-of-the-art Hot Isostatic Press (HIP), furnaces and machining capabilities.
• Maintain full traceability and analytical insights throughout the manufacturing process via a digital thread.
• Manage the entire manufacturing process under one roof with a streamlined workflow, a differentiator for Carpenter Technology in the industry.
Here is what the company says future plans for the ETC include:
• Soft Magnetics: Expand soft magnetics technology platform to meet growing electrification needs.
• Powders Technology: Scale-up of alternative technologies for producing metals powders.
• Next Generation Materials: Demonstrate next generation materials under development today.  
The Alabama Robotics Technology Park is stepping up its game with different types of manufacturing. In September Presidential Advisor Ivanka Trump visited park to announce the advanced manufacturing training program known as FAME is being taken to a national level to train people to fill more jobs.