HUNTSVILLE, Ala — Winter weather brings with it a big road hazard...black ice.
There have been numerous reports about minor car crashes due to the condition of the roads in North Alabama. These conditions were caused by mother nature herself.
"You will have some moisture on the roadways that will be refreezing and potentially creating black ice spots," said Seth Burkett, Public Information Officer at the Alabama Department of Transportation.
Black ice is one of the biggest concerns when it comes to traveling during the winter months, but what is it?
"Ice that forms on the roadway when you have moisture on that pavement surface and the temperatures are below freezing, eventually you know, that moisture can turn into ice," said Burkett.
It's so dangerous because of its ability to camouflage itself. If you do have to drive, keeping your eyes peeled is crucial.
"Because it's difficult to see on the roadway, it kind of blends in with the roadway surface," said Burkett.
Rain isn't the only thing that causes black ice either, it can happen anytime there is moisture on the pavement and the temperature is below freezing.
"Not only regular rain but freezing rain, sleet, snow, all of this is precipitation that is gonna wind up freezing on our roadways," said Burkett.
Driving during these kinds of conditions can be a recipe for disaster.
"If you've ever been ice skating you know it's not easy to walk on ice, so, it's not easy to drive on ice," said Burkett.
According to Burkett, the best way to avoid disaster on icy roads is to stay off them.
"We'd encourage motorists to avoid travel if it's not necessary, you know, your best bet is to just stay home and stay safe," said Burkett.
North Alabama Snow Day, Jan. 16, 2022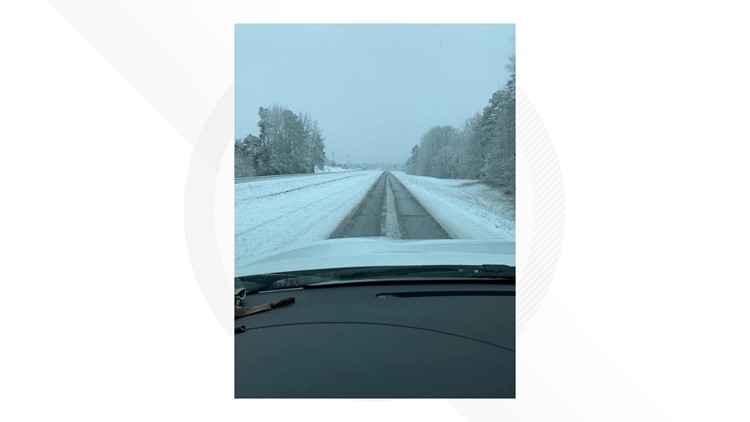 Why can't roads be pretreated for ice?
According to the Alabama Dept. of Transportation, rainy weekend weather will limit ALDOT's ability to pretreat highways effectively. If forecasts and conditions allow pretreatment, interstates, bridges, and other areas prone to icing on major routes will be top priorities for treatment and clearing following winter weather.
Drivers are advised to monitor weather reports and adjust travel plans based on the weather. ALDOT asks that in the event of widespread icy conditions, people should avoid getting on the roads unless there's an emergency. If you do have to be on the road, reduce your speed and watch out for hazardous conditions.
How to be safe on the road in winter weather
Alabama State Troopers have tips for staying safe on the read in winter weather:
Avoid travel, if possible, when icy or other extremely hazardous driving conditions develop in your area
Remember that weather and roadway conditions can quickly change. Adapt speeds to existing roadway conditions and be alert to changing weather and the possibility of icy, slippery roads.
Keep your vehicle in good operating condition. Check antifreeze levels and use windshield washer solution suitable for freezing weather conditions. Keep gas tanks at least half full.
Pay particular attention to bridges and overpasses, which have a tendency to develop extremely hazardous "black ice."
During inclement weather turn on headlights and windshield wipers and keep a safe distance between your vehicle and other motorists.
Keep blankets, a first aid kit and other emergency supplies in your vehicle.