FLORENCE, Ala. — In a unanimous vote Friday, the University of North Alabama Board of Trustees has approved an on-campus, multipurpose stadium project, to be named Bank Independent Stadium, and authorized next steps for the venue's design and planning process. The approval comes amid an outpouring of philanthropic support for the project. University officials confirm that external fundraising will be the core driver for the development of the new facility, though they would not commit to any numbers regarding the costs or financing.
"As a member of the Board who voted to accept the ASUN Conference invitation and move to Division I athletics, it is certainly a milestone for us to be announcing this project," said Will Trapp, President Pro Tempore of the Board. "In many ways, our step up into this higher level of competition was a leap of faith. We held a collective belief that it would be beneficial to the University and the community, but we all knew at some point there would need to be greater investment in facilities if we were going to build on this move."
Trapp said the community and investment by local businesses, civic, municipal, and private individuals have helped the University bring this goal one step closer to fruition, reiterating the fact that private giving and fundraising have provided a strong foundation of financial support for this project.
"It has taken a long time, but, behind the scenes, a lot of people have been diligent in fundraising and a lot of families and companies are giving specifically to make this investment in our athletic programs," he said. "Student feedback several years ago was very much in favor of this option, and it speaks volumes that support from our business community has helped us reach the point of being able to bring this project to life."
The multipurpose Bank Independent Stadium will have a transformative effect on the UNA campus, the Shoals community, and the region. It is the culmination of a vision that began almost 50 years ago and was reinvigorated in 2018 when UNA's President Ken Kitts convened a task force to consider the idea after receiving a resolution from the Student Government Association in favor of an on-campus stadium.
"Our campus, our community, and our philanthropic conversations have brought us to this day and this historic decision made by our Board of Trustees," Kitts said. "I am thrilled that our partnership with Bank Independent and other donors allows us to move forward with a multipurpose, on-campus stadium so that we may begin to realize next steps and see this long- time goal become a reality."
Over the next nine-to-12 months, the school will begin the conversations with necessary parties like architects to design the facility. The 2026-27 school year is the target for completion.
But just making this announcement signals the next step in the athletics department's evolution.
"That the university is just clicking on all cylinders," said athletics director Josh Loony. "And it's great that one year into our full Division I membership, we'll be undergoing a transformative project like this that can elevate the entire institution and not just athletics."
It's not a coincidence that UNA athletics made the jump to D-I and is now building a stadium.
"We use the Division I metaphor extensively and, you know, it was a university move," said Kitts. "Certainly athletics first and foremost, but we've talked about Division I academics - we've achieved that - doctoral programs, growth in the honors college division on campus life and part of that is Division I facilities."
The proposed stadium will re-develop areas used by North Alabama baseball, football, and soccer, while providing an opportunity to host numerous sporting and non-sporting events. Non- athletic events could include concerts, live performances as well as other academic and community events.
"It is a game-changer for football, for athletics, and for the University," said Steve Pierce, a long- time Board of Trustees member and chair of the Campus Life, Athletics, and Diversity Committee. "As a student from the 1970s, I see the value in having an on-campus stadium, and it is why I am behind this one thousand percent. I believe in the positive benefit this project will have on UNA now, once the Bank Independent Stadium is in use, and well into the future."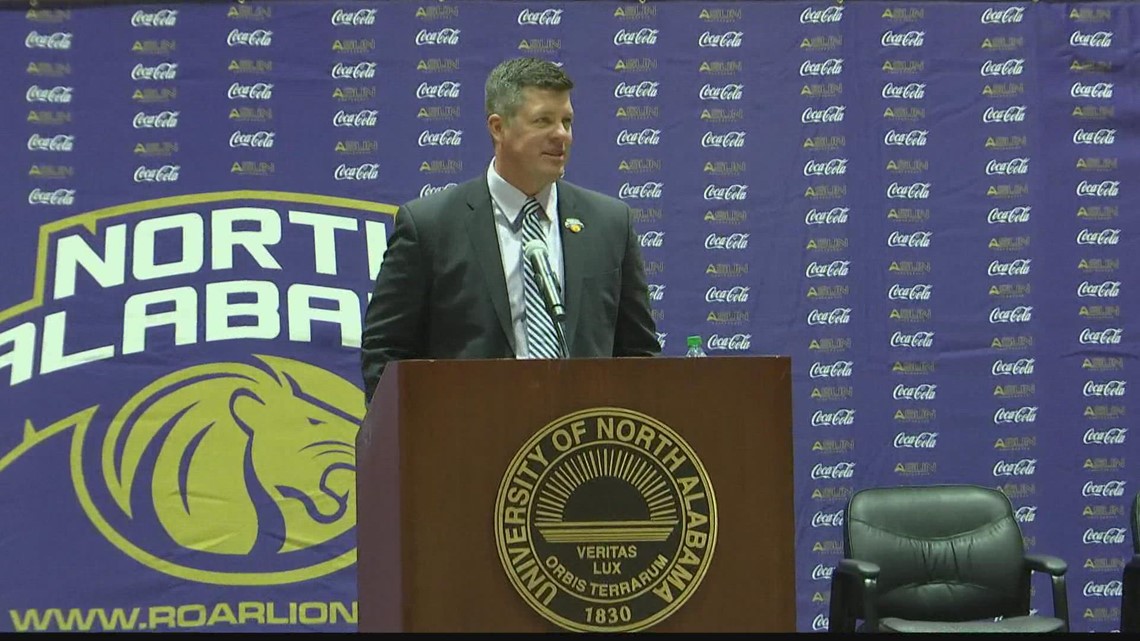 With Friday's vote by the Board of Trustees, Bank Independent Stadium will enter the design phase, which is anticipated to take approximately 12-18 months. UNA will enter into an agreement with a sports construction firm to formalize the project scope, design, and financial strategy. Details will be shared as they become available, according to Looney.
"We are so pleased with this step taken today by our Board of Trustees, and thrilled to have the opportunity to take this project into its next phase so that our vision for an on-campus stadium can move forward," he said. "Today's vote is the culmination of much work and planning and so many conversations with others who told us, unequivocally, that the time has come to make the idea of an on-campus stadium at UNA a reality. We are incredibly appreciative of the philanthropic momentum surrounding this project."
While this plan had been rumored for years, all considerations completely started over at the on-set of the coronavirus pandemic. It left question as to whether the stadium would ever be built.
But two years ago, when Looney was scouting the job as a candidate for the athletics director opening, he saw the open-endedness to the stadium question as an opportunity.
"It definitely was something on the radar was attractive piece for me coming to the University of North Alabama, knowing that this was a challenge and an exciting one," he said. "And the university's growth and just an awesome time. It couldn't come at a better time, right?"