HUNTSVILLE, Ala. — Back-to-school will be here before you know it. Most kids in Alabama go back to school at the beginning of August. Teachers go back even earlier. And a new school year means new school supplies. Want to help students and teachers that need school supplies? Here's how you can help. Need supplies for your students? Giveaways are coming up.
School supply drives and giveaways
Angela Claxton School Supply Drive
August 7, 1:00 p.m. to 4:00 p.m.
NSS Society Park, 6001 Pulaski Pike, Huntsville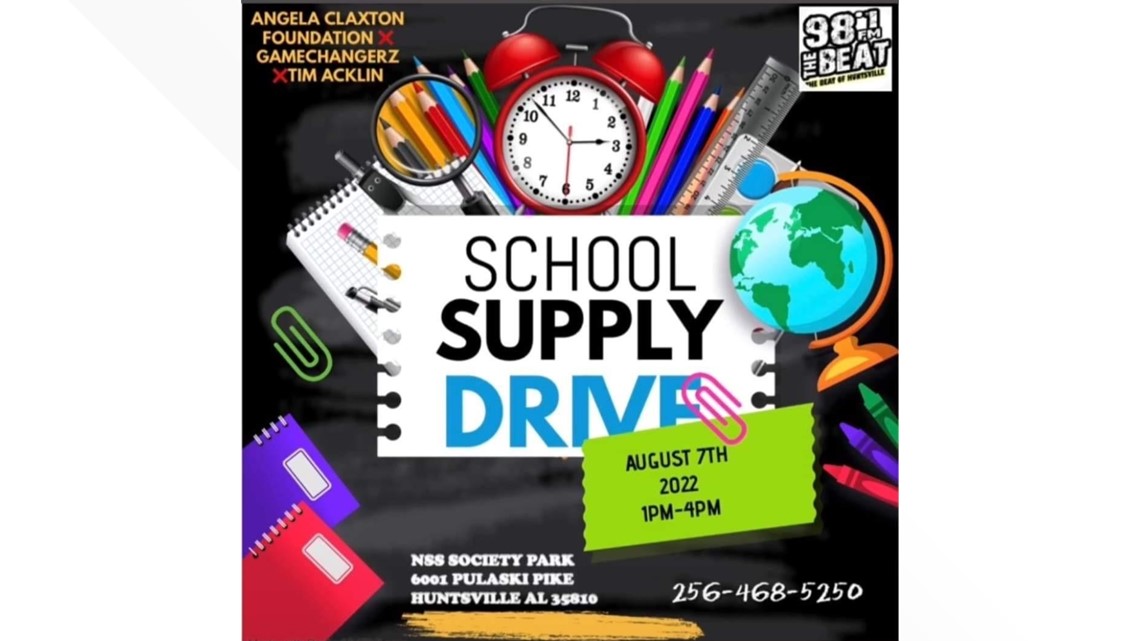 CNI Solutions 2nd Annual Braid-a-thon for Back-to-School
CNI Solutions of Huntsville will be hosting their 2nd Annual Braid A Thon to help school students in the area prepare for the new school year.
This event will take place July 31st from 8A to 5P at the Robert Harrison Senior Center, located at 6156 Pulaski Pike NW in Huntsville. Services will be provided by appointment only and local stylists, braiders, and barbers will be on hand to provide free service to the children.
"We had such an amazing turnout last year and we're excited to have the opportunity to host another this year," says Dr. Iris P. Frye, CNI Solutions Co-Founder. "We served close to 100 students and this year, we are planning to serve over 200 students."
Parents and guardians of children, grades 6 through 12, we're encouraged to register their child in early July on the CNI Solutions website. CNI SOLUTIONS will provide a BBQ lunch meal and school supplies to the community.
Contributing businesses for this event are Cuttin' M Up Beauty and Training Center, Hair Queen Beauty Supply, and the Robert "Bob" Harrison Senior Wellness and Advocacy Center.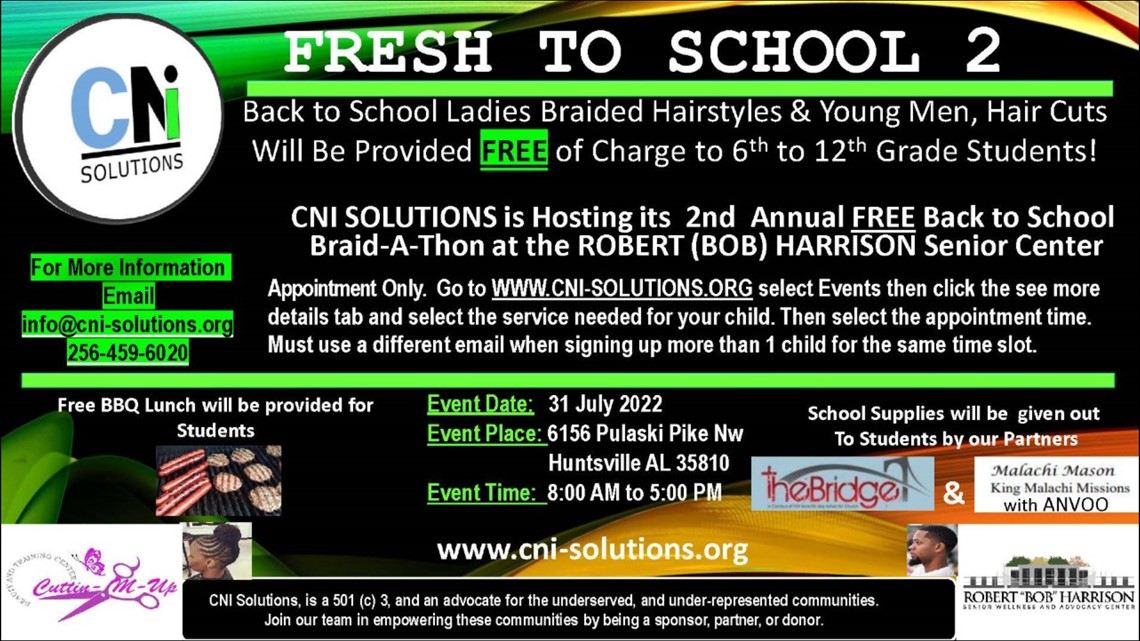 Fans of the Rocket City Trash Pandas can now support children in their community, and it's as easy as supporting their home team! Local law firm Tyler Mann Injury Law is teaming up with HEALS, Inc., an Alabama-based non-profit, to provide new back-to-school shoes for area children in need.
If you're going to the game on Saturday, July 23, anyone who brings new, child-sized shoes appropriate for grades 1-8 to the game and drops them off for donation at the Tyler Mann tent near the park entrance will be entered into a raffle to win a $250 gift card to Academy Sports + Outdoors.
To enter the gift card giveaway, donors will need to scan a QR code available at the Tyler Mann tent. The firm is also pledging $1 of its own for every entry received, with the ultimate goal of making a $3,000 donation to HEALS, Inc. for purchasing new shoes.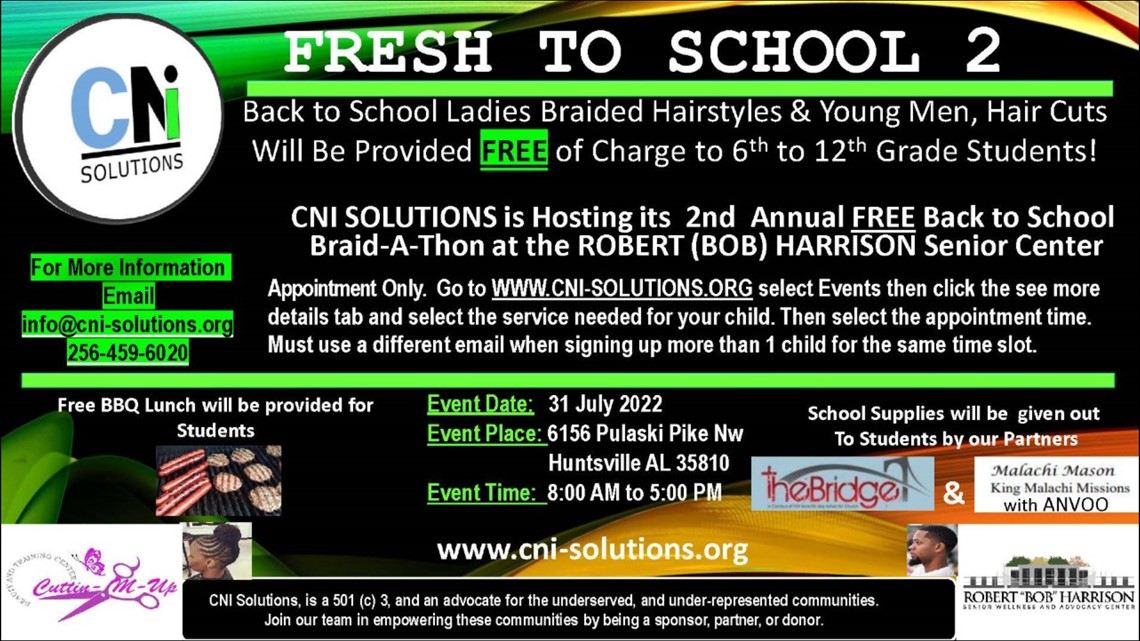 Huntsville Police Department
The department is seeking donations of backpacks, pencils, pens, markers, notebooks, cleaning supplies, and hygiene items. HPD also seeks coats for students to have during the winter months. Supplies will be donated to Huntsville City Schools and distributed to teachers and students throughout the year.
Donations can be dropped off at the following locations through Friday, July 29:
Bank Independent launched its School Share drive to benefit local school children through the "$5 Helps Carry the Cost" campaign. School supplies and donations will be accepted at all locations of Bank Independent, by PayPal and through scheduled collection events until July 15. Bank Independent works with local partner organizations across their seven-county footprint to ensure donations are distributed to area families in need, including Committee on Church Cooperation in Decatur, Sidney's Safe! Foundation in the Shoals, the Department of Human Resources in Franklin, Lawrence and Limestone counties and Free 2 Teach in Huntsville.
Decatur Dream Center School Supply Drive
Back-to-School Supply Drive - Scottsboro
We are holding a Back to School Supply Drive. So many of our CASA kids are in need of school supplies this year! You can help by donating by PayPal or by purchasing supplies and dropping items by our office in CASA of North Sand Mountain 304 S Market St STE 200 Scottsboro 35768 and Limestone Behavioral Health Services 204 Alabama Ave SW Fort Payne 35967
No. 2 pencils
Colored pencils
Crayons
Markers
Glue sticks
Pencil pouches
Backpacks
3 ring binders
Graph paper
Scissors
Composition Books
2 pocket poly folders
Bottles of glue
Wide rule paper
Highlighters
Qt ziplock bags
Paper towel
Kleenex
Hand sanitizer
Contact 205-478-8389
PayPal for supply donation: Executivedirectornsm@alabamacasa.org
School Supply Collection and Giveaway
It's time to help our children out for the 2022 school year!
If you would like to donate drop off your school supply's to Landers McLarty Nissan of Huntsville or Mercedes-Benz of Huntsville until July 29th! All school supply's will be free to the public and available for pickup July 30th at Tam's Beauty Supply! All donations are welcome.
ALNAACP School Supply Drive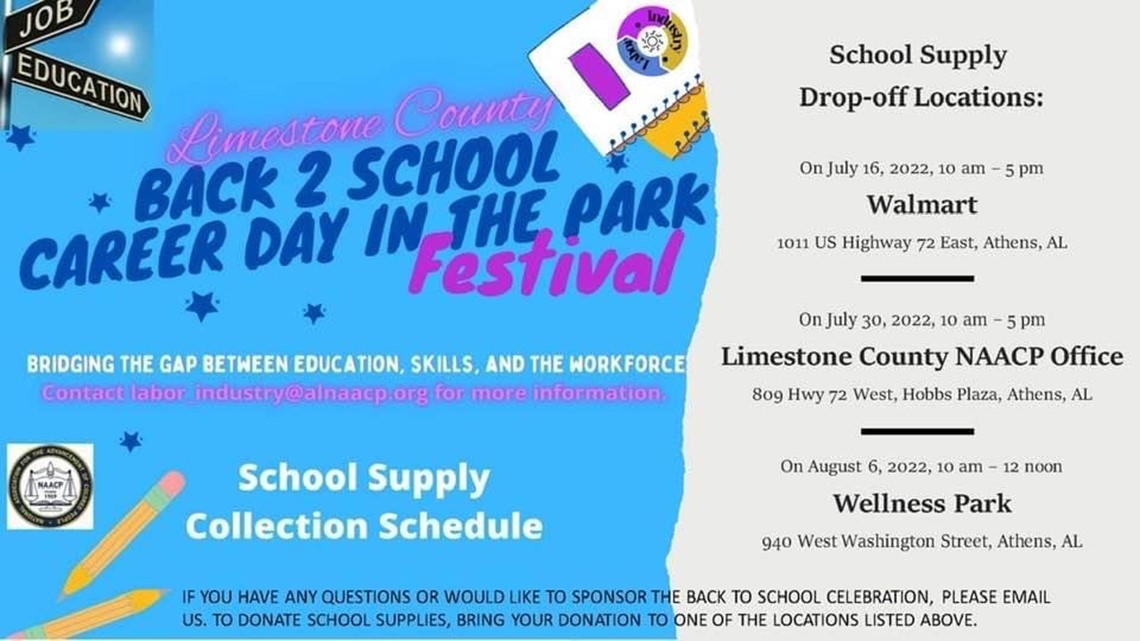 Limestone County Churches Involved School Supplies Giveaway
On Friday, July 22 from 9:00 a.m – 1:00 p.m., Limestone County Churches Involved (LCCI) will hold their annual free school supplies distribution for low-income families. Named in honor of two long time volunteers, The Daisy & John McCormack School Supplies Distribution will be held in the First United Methodist Church's Youth Center. The address is 203 N. Jefferson Street, next to the LCCI office. Recipients will need to bring an ID to verify residency within Limestone County.
OneGenAway Backpack and Food Box giveaway
One Generation Away and the city of Huntsville's youth program are partnering up to help Huntsville families prepare for school as the summer comes to a close.
OneGenAway will bring its mobile food pantry to Calhoun Community College on Saturday, July 16, where individuals and families will not only have the opportunity to receive a load of groceries but also a backpack and school supplies, thanks to Community Awareness For Youth (CAFY).
The mobile food pantry and backpack giveaway will take place in the college parking lot at 102 Wynn Drive Northwest in Huntsville from 9 a.m. to 10:30 a.m. or as supplies last. Volunteers will begin sorting and organizing food and backpacks at 7:30 a.m. No registration is required to receive or volunteer.
OneGenAway will bring enough food to serve over 300 families, and CAFY will provide 750 backpacks filled with back-to-school essentials for anyone in need.
103.9 WEUP Back-to-School Jam
Baker's Learning Kitchen Book Drive
Back-to-School Alabama Sales Tax Holiday Weekend
Alabama's 17th annual sales tax holiday for school-related items begins at 12:01 a.m. Friday, July 15, 2022, and ends at midnight Sunday, July 17, 2022, giving shoppers the opportunity to purchase certain school supplies, computers, books and clothing free of the state's four percent sales or use tax.
Next Step School Supply Drive and Giveaway
Drop off your donation of school supplies to Endeavor Elementary School and Monrovia Middle School by July 13 for distribution to students in Huntsville, Madison City, and Madison County Schools on July 16 from 10:00 a.m. to 2:00 p.m.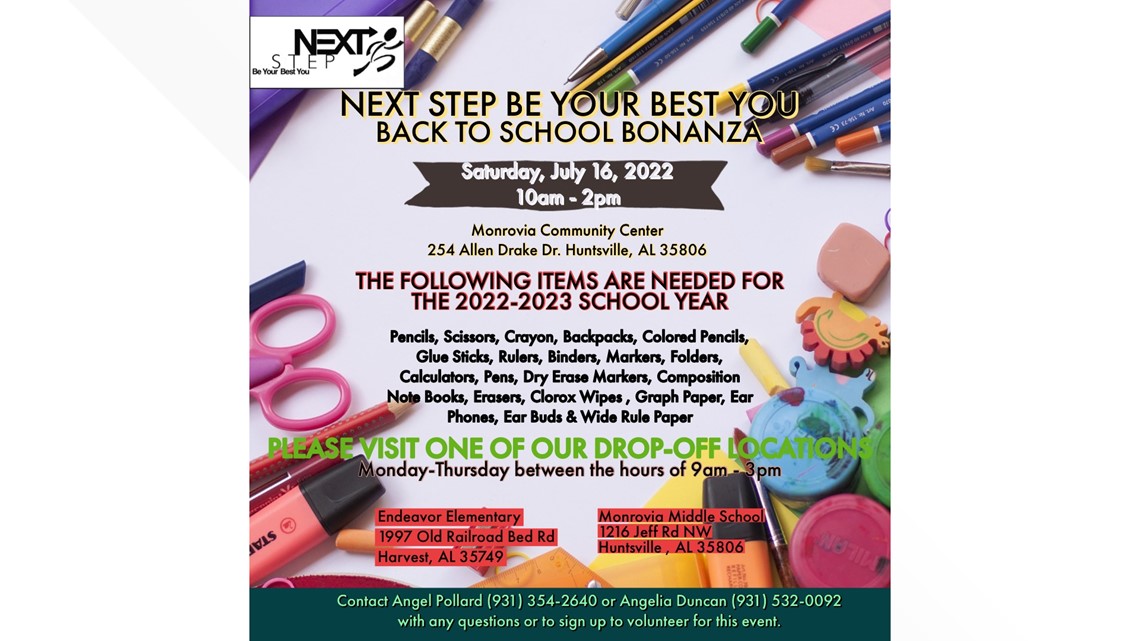 CAFY 2022 Grocery and School Supplies Giveaway
Free groceries, free backpacks, free school supplies, free entertainment. Community Awareness for Youth hosts this giveaway on Saturday, July 18 from 9:00 a.m. to 11:00 a.m. at Calhoun Community College, Wynn Drive, Huntsville.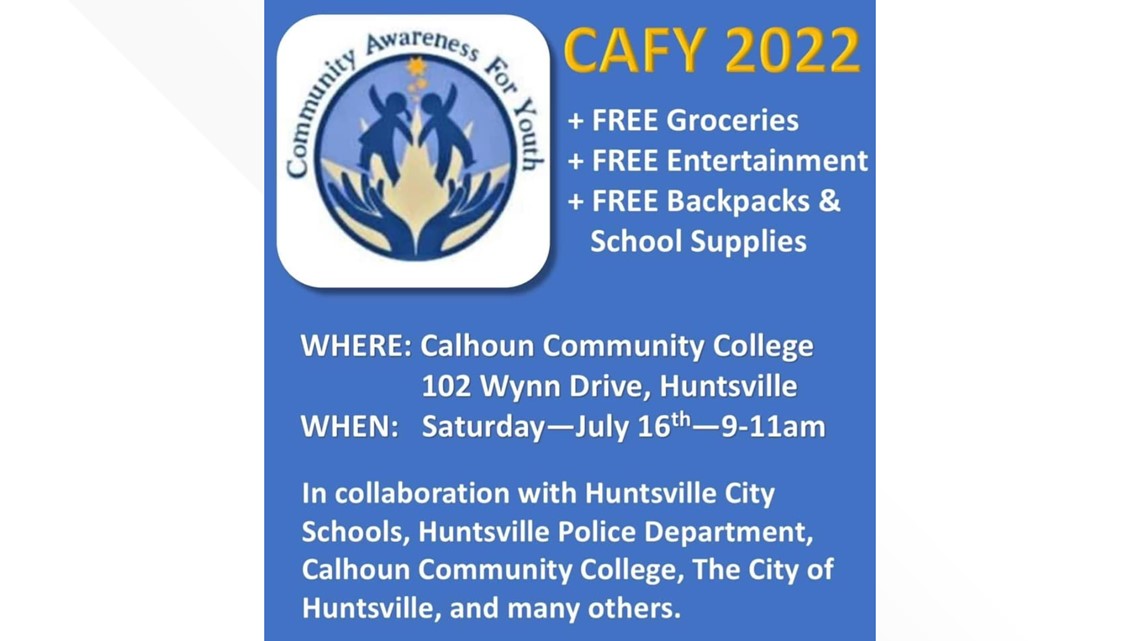 Sales Tax Holiday
Alabama's 17th annual sales tax holiday for school-related items begins at 12:01 a.m. Friday, July 15, 2022, and ends at midnight Sunday, July 17, 2022, giving shoppers the opportunity to purchase certain school supplies, computers, books and clothing free of the state's four percent sales or use tax.