TONEY, Ala. — The Madison County Sheriff's Office says Clark was reported missing by her family on December 31 and found on January 2.
We spoke with Ronald Heard, the Chief of Bobo Volunteer Fire Department. He tells our reporter, "We were looking for several days... Saturday, we started about 9 o'clock and we probably found her about two hours later. We had some people riding through the field on the four-wheeler. The same grass field here. A little dog [ran] out. Barked at them, ran back in and sat down beside the woman and that's the way they found her."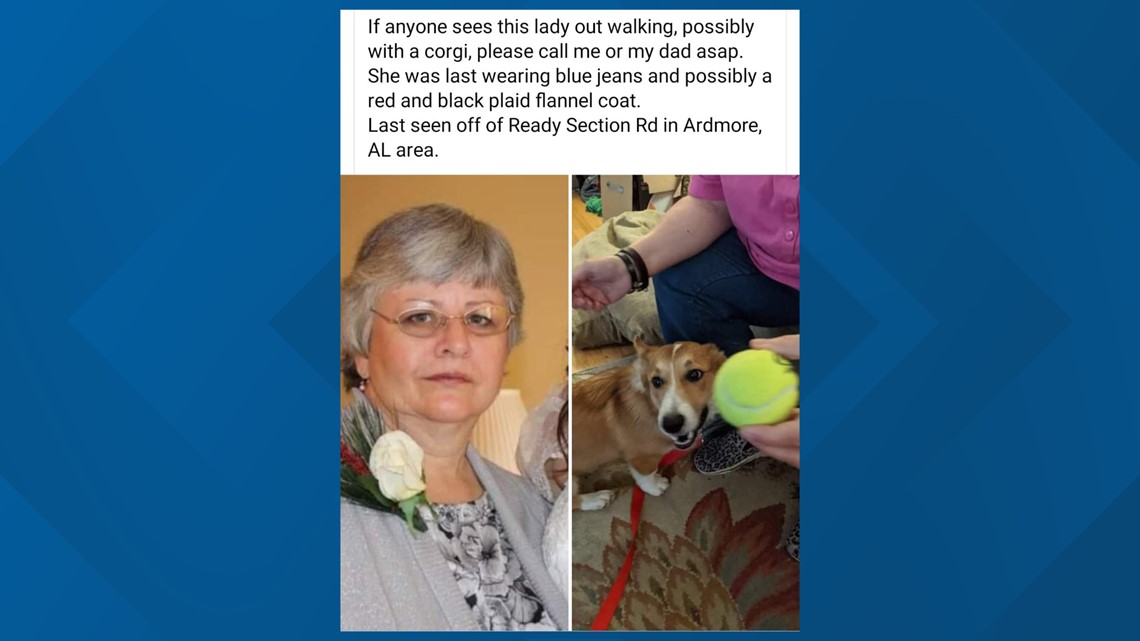 Shelby Clark was reported missing by her family on December 31. The post above was shared on Facebook to help people identify her, saying she might be with a dog, a corgi. Rescuers say this dog may have turned out to be her guardian angel, leading rescuers right to Clark.
Chief Heard says, "I figured the dog would get hungry and walk off and leave her. But, he didn't. He stayed right there with her."
Chief Heard leads our team to the area in a field near the intersection of Ready Section Road and Wall Triana HWY in Toney/ Ardmore where Shelby Clark was found on January 2nd. He says she was actually laying down in this grass when they found her. Heard says, "She was in good condition for what she went through… She had gotten wet the day before that. So, we figured we'd find her and she'd have at least hypothermia. But , she didn't. She was shivering but she was actually in good shape."
The rescue was a group effort.
Heard tells our reporter, "We had probably five or six volunteer fire departments that came up and helped us. Huntsville Fire Department was here, sheriff's office, a state helicopter. We had dog teams from all over the place. We had one from Columbia, Tennessee so they were all coming out here and helped us." He adds, "We also had probably 100 people from the community coming out and searching for her."
But, in the end, responders from Bobo Fire Department found Shelby Clark. They say volunteer departments can make all the difference in life or death situations like these. Chief Heard adds, "We're the only protection they've got from fire, medical hazmat-- whatever. We're the only protection they have out here."
He says his team is happy to know this rescue has a happy ending. Chief Heard jokingly tells our reporter, "We have heard from the family. She is doing real good and they're taking really good care of that dog."