HUNTSVILLE, Ala. —
UPDATE: The Huntsville location has been suspended by Handel's Ice Cream's national office.
This post was added most recently on the company's Facebook page:
A racially charged social media post from the franchise owner of a popular Huntsville ice cream shop has been shared a number of times.
A petition to boycott the ice cream parlor and get the owner replaced already has over two thousand signatures. Now people want answers... and consequences.
For a link to the petition, click here.
Handel's Ice Cream in Huntsville on Hwy 72 has it's doors closed as the location's Franchise Owner, Rick Jarrell, is under fire for this 2015 post on Facebook.
A significant amount of the post had to be blurred out because of the language. But a number of racial slurs were used, including the 'N-word' at least seven times. As Jarrell appears to explain what he describes as a "unique perspective" on race relations.
We could not find a way to get in contact with Rick Jarrell for comment, now that his Facebook seems to be deactivated.
Here is a screenshot of Rick Jarrell's November 2015 post on Facebook (we have blurred out racial slurs and offensive terms: The last line of the post has been cut off in this screenshot. The line reads " If you are a follower of [redacted], I will chase you to the gates of hell and bring down on you the wrath of my God! Except for that, welcome to my home."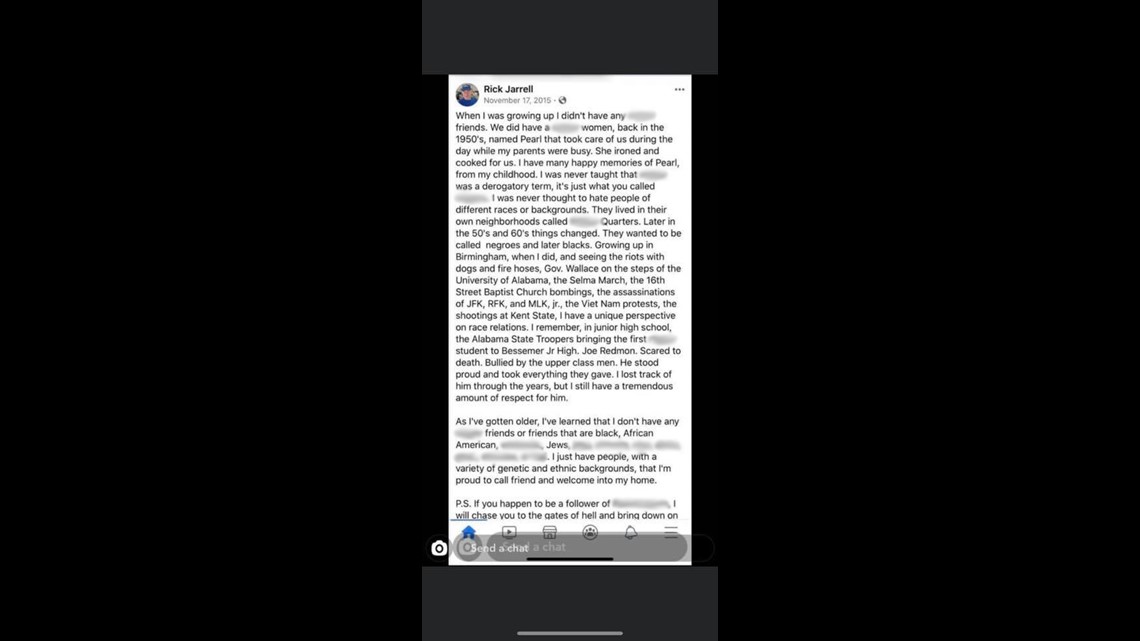 A post with just about every racial slur you can think of sent from the profile of the franchise owner of the Huntsville location of Handle's Ice Cream. Locals tell me that they won't stand for it
Josh Kelly came by the Handel's store to speak to a manager and express his outrage. But, he talked to our crews once he realized the location was closed. Kelly says, "Offended, outraged, atrocious… This should not be tolerated anywhere. Especially in Alabama."
We talked to one local activist who says, "The words he was using, the language, the whole message was unacceptable."
Julia Williams says, "Knowing that's how he really feels towards people of color like that… It was just hurtful I guess."
Josh Kelly tells our reporter, "I think the community just needs to come together and say we're not going to tolerate this mess."
A number of people stopped by Handel's today to voice their concerns after seeing the post.
Handel's national Facebook page did acknowledge the post -- issuing an apology and saying they are "troubled by the offensive tone that these messages conveyed."
A small group of protesters showed up to demonstrate in front of the ice cream parlor.
The local activist we spoke to says regardless of when it was posted, the post is just simply unacceptable. He adds, "He should be fired. That's really the only thing to do at this point, and if he's not, we'll be out here protesting everyday.
Others even stuck around the restaurant to show the post to people as they pulled up-- who might not have been aware of the situation-- and came to purchase some ice cream.
Some who spoke to our crews made it clear that they do not support the comments made.
One young man tells our reporter, "I mean-- I'm not getting no Handel's ice cream."
Julia Williams says, "I mean, we're all for supporting black businesses-- especially right now."
Josh Kelly tells our reporter, "I'm gonna make my own ice cream!"