HUNTSVILLE, Ala. — Huntsville's City Council meeting tonight at 5:30 p.m. is expected to draw a large crowd of speakers inside and protesters outside as the council discusses last week's police response to protesters and the Madison County Commissions adoption of a resolution to remove the Confederate monument in Courthouse Square.
A copy of the meeting agenda can be found here. Time for public comments is at the end of the meeting.
Large turnout for Huntsville City Council meeting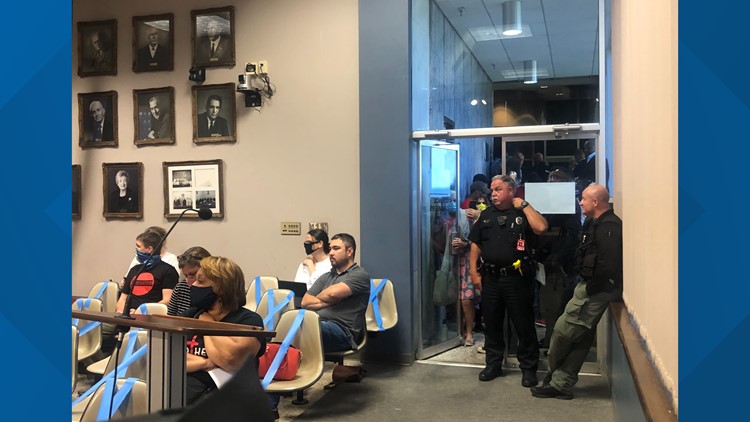 According to the city, the Police Citizens Advisory Council is reviewing the use of tear gas and pepper spray by police at recent protest events. Additionally, Mayor Tommy Battle informed Council he asked Police Chief Mark McMurray to provide an after-action review of the events that led to the use of these agents.
In a Wednesday news conference, District 2 Council Member Frances Akridge urges speakers to come with solutions, not complaints. Akridge is expected to introduce a resolution directing the Huntsville Police Citizens Advisory Council to produce a report concerning the events from May 30, 2020 to June 5, 2020.
City Council President Devyn Keith is introduce a resolution to support the County Commission in the removal of the monument in Courthouse Square.
District 5 Councilman Will Culver has pledged to review all comments from the public and asks residents to continue to send in their comments and thoughts.


Protesters are expected to start gathering for a peaceful protest at 5:00 p.m. in Big Spring Park.