HUNTSVILLE, Ala. — Juneteenth commemorates June 19, 1865, when Union soldiers brought the news of freedom to enslaved Black people in Galveston, Texas, two months after the Confederacy had surrendered. It was about 2 1/2 years after the Emancipation Proclamation freed slaves in Southern states. Events celebrating that day are taking place across the Tennessee Valley.
Most City of Huntsville employees will enjoy a day off Monday, June 20, to celebrate Juneteenth National Independence Day.
All municipal offices will close Monday, including Animal Services, Public Transit (Orbit and Access) and Municipal Court. Offices will reopen at 8 a.m. Tuesday, June 21.
Garbage Collection: Residential collection will be delayed one day the week of June 20-24. Residents should leave carts at the curb until they are collected.
Parks & Recreation: All facilities will close except splash pads, which will be open from 10 a.m. to 7 p.m. The Bicentennial Park Splash Pad is currently shut down.
Public Safety: Essential police and fire personnel will remain on duty throughout the holiday.
This is the first year the City will observe Juneteenth, which became a federal holiday on June 19, 2021. The Huntsville City Council unanimously approved observing Juneteenth at its July 22, 2021, meeting.
Juneteenth commemorates June 19, 1865, the date enslaved African Americans in Galveston, Texas, learned they were free and the Civil War was over. It is the 11th federal holiday and the first new holiday since the designation of Martin Luther King Jr. Day in 1983.
Cancellations and time changes are possible. Please confirm information before heading out to any event.
Huntsville
WHEN: June 11, 2:00 p.m. to 7:00 p.m. Bob Harrison Wellness and Advocacy Center
6156 Pulaski Pike NW
Gates open at 2:00 p.m. Food starts at 4:00 p.m. Live music, games, giveaways for kids, antique car show, and more.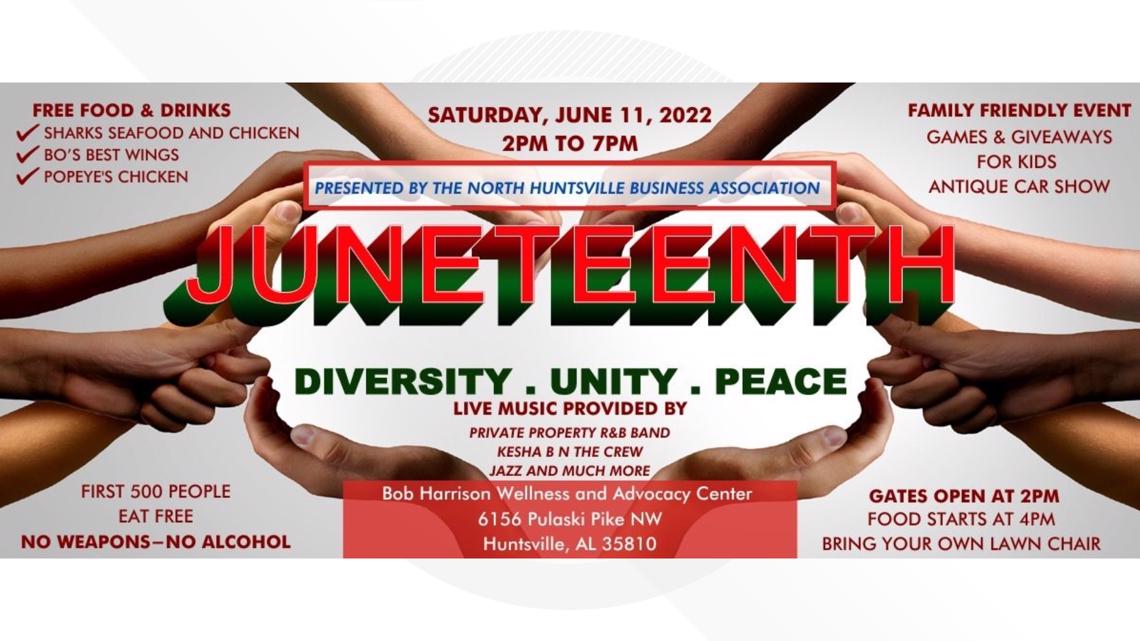 WHEN: JUNE 18 10 AM - 5 PM
WHERE: Lakeside Methodist Church, Huntsville
This free family oriented event is being held at Lakeside Methodist Church on June 18 from 10am - 5pm. You'll find food, free gift bags, entertainment, children's activities, inflatables, social service agencies, voter registration, bikers, college representatives, poetry slam, essay contest, health screening, a special re-enactment of San Juan Hill presented by the Buffalo Soldiers of Huntsville, food trucks and merchandise vendors and much more.
WHEN: JUNE 18 11 AM - 7 PM
WHERE: 4000 Pulaski Pike Northwest, Huntsville (The Palace HSV)
FUS-22 is another free Juneteenth Festival that features local musicians, activities, vendors, food trucks, retailers, community advocates and more at The Palace HSV located at 4000 Pulaski Pike Northwest Huntsville, AL 35810.
This Juneteenth Festival is designed to expose the community to the plethora of multi-cultural premier vendors who service the North Alabama region. This is an outdoor event that will prove to be the largest cultural celebration in North Alabama. Participants will be able to experience the region's finest food trucks, bakers, and retailers; as well as hear from live entertainment provided by local artists.
WHEN: SUNDAY, JUNE 19, 2022, 8 P.M. – 11:55 P.M.
WHERE: RollerTime Skating Rink
Celebrating freedom for Juneteenth at RollerTime Skating Rink on Sunday, June 19th from 8pm - Midnight.
Sounds by DJ Carl, DJ Donye West and DJ BShort. $10 Admission/ $3 skate rental.
WHEN: June 18, 2022 AT 12:00 P.M.
WHERE: 5909 University Drive, Huntsville, AL
JUNETEENTH LINEUP
Grammy-Award winning Kelvin Wooten
King Kwofi
Wade Brown
Cole Boyz
Marquis Green
Mario Maitland
Canita Rogers
Tre Calhoun
Alex Banks
Jalen Kelly
Dante Pride
William Hampton from Huntsville Revisited
Live Art by Neal Fudge
& your hosts DJ Cee-o & Lloyd G!
Educational art walk and spoken word honoring Juneteenth.
WHEN: June 19 from 11am - 4pm.
WHERE: 1201 Meadow Drive in Huntsville
The GreenHouse Effect and Mountain Calvary Seventh-Day Adventist Church are partnering to host a Rock the Block Juneteenth Celebration on June 19 from 11am - 4pm. The free event will be held at Mount Calvary Seventh-Day Adventist Church at 1201 Meadow Drive in Huntsville. This family-friendly event will have free hotdogs and Coca-Cola products, vendors, Food Trucks including Frankie's Crab Shack, Soul on Wheels, and Pinguinos Huntsville, free community health screenings and a blood drive, and a Father's Day Tribute to all dads.
Plus the kids will have lots of fun with the book mobile, bouncy houses, water slides, face painting and more! Local artists will be performing throughout the event.
Athens
WHEN: June 19, 2022 9:00 AM - 9:00 PM
WHERE: Marion between Washington and Market
Decatur
WHEN: June 18, 9:30 a.m. to 12:00 p.m.
WHERE: 1st Avenue, next to Farmer's Market


Florence
The event will celebrate freedom, heritage, and community.
WHEN: Sunday, June 19, 2022, from 1– 8 P.M.
WHERE: Lewis Field, 1050 Pruitt Street, Florence, AL
Those who attend will learn more about local organizations and business as well as enjoy free food, live music, spoken word poetry readings, face painting, and more.