HUNTSVILLE, Alabama — Officials in Huntsville took time on Wednesday to recognize and celebrate the women's suffrage movement.
On Wednesday, the Alabama Women's Suffrage Centennial Committee, the Historic Huntsville Foundation, and Huntsville leaders dedicated a new historic marker celebrating the 19th Amendment.
It now sits at 203 Greene Street in Downtown Huntsville in front of the building where women met in 1912 and 1914 to fight for women's right to vote.
Historic Huntsville Foundation Executive Director Donna Castellano said, "I think it's wonderful the idea of children walking by, school children walking by and them seeing themselves in that marker of knowing that 100 years ago there were women who had an idea called equality, and they were willing to fight for equality."
The marker was made possible by the William G. Pomeroy Foundation and the National Collaborative for Women's History Sites. It's part of the National Votes for Women Trail set up to tell the story of where the suffrage movement took place and to uncover historic events never told before.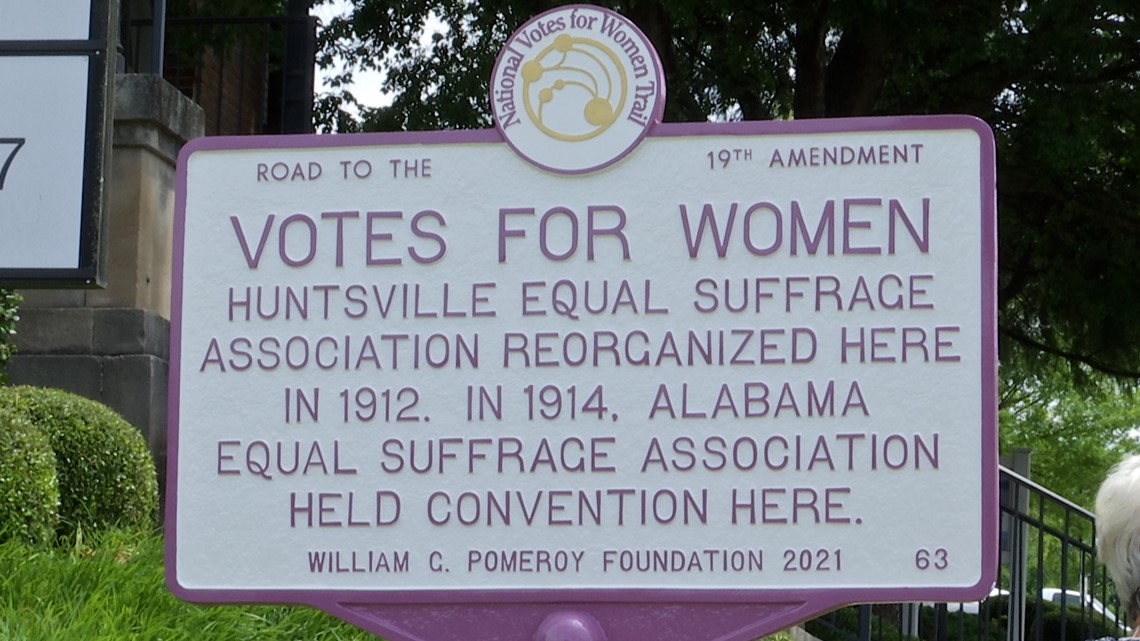 The Huntsville marker is one of six Pomeroy markers in the state. The others are in Decatur, Birmingham, Selma, Tuskegee and Mobile.
People who came out to the marker dedication reflected back on the decades-long fight to win the right to vote for women. They say these markers are bringing to light more local women who have made history.
Marsha Weinstein, president of the National Collaborative for Women's History Sites said, "We've really reached now I think a glass ceiling where we can really appreciate all this rich history and how important it is."
Later in May, another woman's suffrage marker will be dedicated at William Hooper Councill High School Memorial Park recognizing the six Black women in the Huntsville community who voted in the 1920s.
Brenda Chunn, president of the William Hooper Councill Alumni Association said, "This is an important step towards honoring the contributions of all women in our community regardless of their lived experiences and or perspective."
WATCH: Huntsville officials dedicate marker celebrating women's suffrage