HUNTSVILLE, Ala. — For the second year in a row, Huntsville Animal Services is partnering with the Huntsville Historic Preservation Commission (HHPC) to help find forever homes for four long-time shelter dogs.
In celebration of Huntsville History Month and upcoming Halloween festivities, four very special pups did some early trick-or-treating in the Twickenham, Old Town and Five Points Historic Districts.
Hayes, Clopton,Chilly and Pi are all available for adoption at Huntsville Animal Services and are hoping their spooktacularly seasonal photo shoot will help them find their forever homes.
For Katie Stamps, City of Huntsville Preservationist, the effort represents more than a photoshoot.
"Our historic districts go all out with spooky decorations and we saw an opportunity to showcase those houses while helping Animal Services find forever homes for Huntsville's shelter dogs," Stamps said. "Find your BOO! was successful last year in finding homes for all four dogs within a few short days, and we hope to continue that tradition this year."
Dr. Karen Sheppard, Director of Huntsville Animal Services, said the four dogs featured in the "Find your BOO" campaign are especially deserving of loving forever homes and have had to overcome medical and other hardships.


Pi trick or treats in the Twickenham Historic District
Pi enjoyed practicing tricks and getting treats in the front yard surrounded by pumpkins and mums. Pi is a smart and playful black and white bully-type breed around 1.5 years old. Everyone loves his black mask on his face and muzzle. He is a handsome and loving boy. Pi originally came to the shelter with a flea allergy and missing fur but is currently being treated for the allergy and is flea-free. His foster parents are teaching him new tricks, and he is highly food motivated, so treats are welcome! Animal ID# 515333. Pi is pictured in front of Twickenham's Brahan-Bernstein-Goldsmith House. Originally constructed in 1818 and enlarged with Greek Revival-style wings in 1834, this dwelling was renovated into a Dutch Colonial Revival-style home in 1924.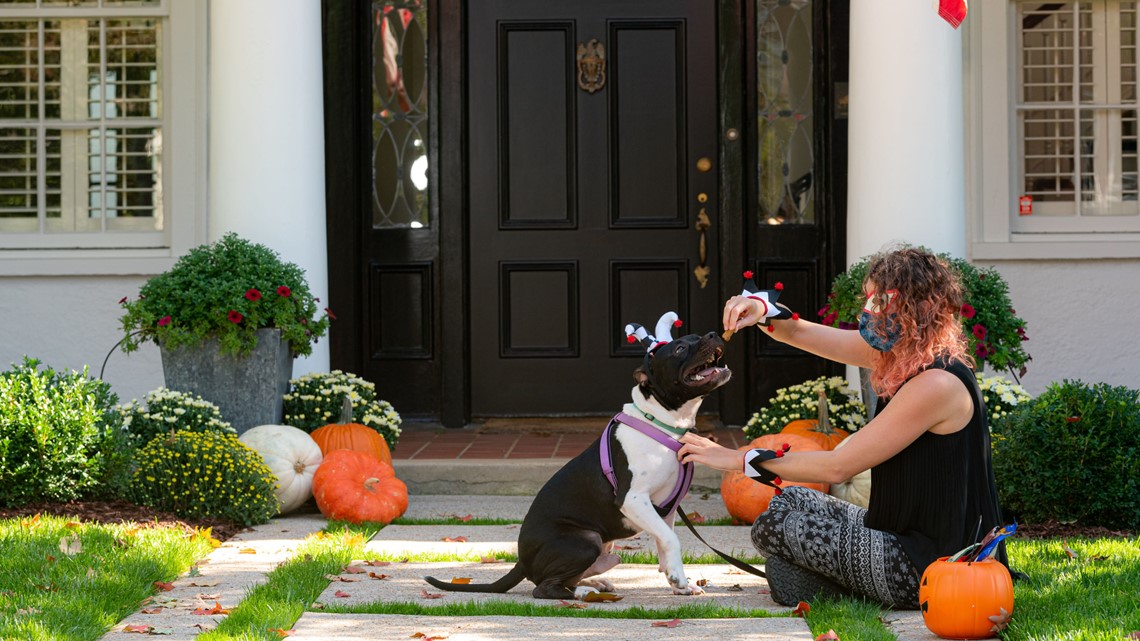 Hayes gets spooky in the Five Points Historic District
Hayes is a true gentleman. This 10-year-old, medium sized hound and bully-type breed had hair loss due to malnutrition and allergies when he arrived at the shelter. He is also deaf, but that doesn't slow him down! Since he has been in the shelter, Hayes has gained weight and is being treated for his hair loss, which looks so much better! Being a senior dog, he would be so happy to have a safe home where he can relax and enjoy life. His adoption fee is only $10 for the "Find your BOO" special promotion. Animal ID# AS20170. Hayes is pictured in front of the c. 1926 Erwin-Darnell House, located in Five Points. Decorated with colorful pumpkins and creeping spider webs, this Craftsman bungalow was perfectly spooktacular!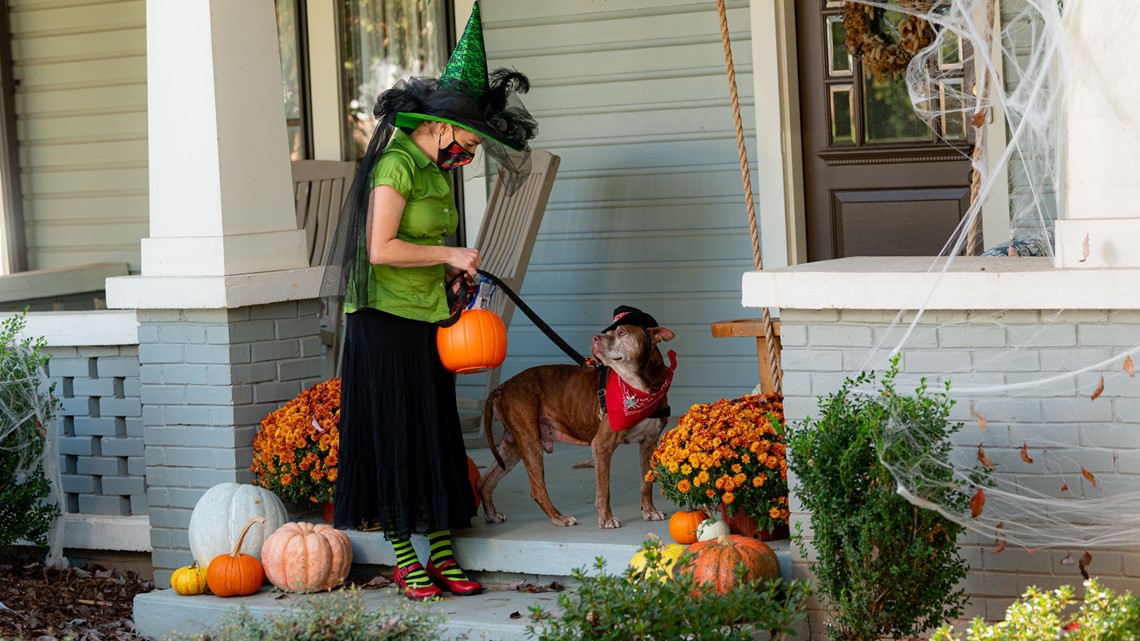 Clopton sees ghosts in the Old Town Historic District
Clopton is a handsome 8-year-old neutered male, large brindle and white mastiff mix breed. For a senior dog, he is full of energy and gets along great with other male and female dogs. Clopton has an old eye injury which has not impacted his enthusiasm about having fun and enjoying people. His adoption fee is only $10 for the "Find your BOO" special promotion. Animal ID# 519632. Clopton and foster parent David felt right at home on the wraparound porch of the c. 1902 Rand House, a Colonial Revival-style dwelling located in Old Town. Clopton met some friendly ghosts while lounging in the shade, but he wasn't scared!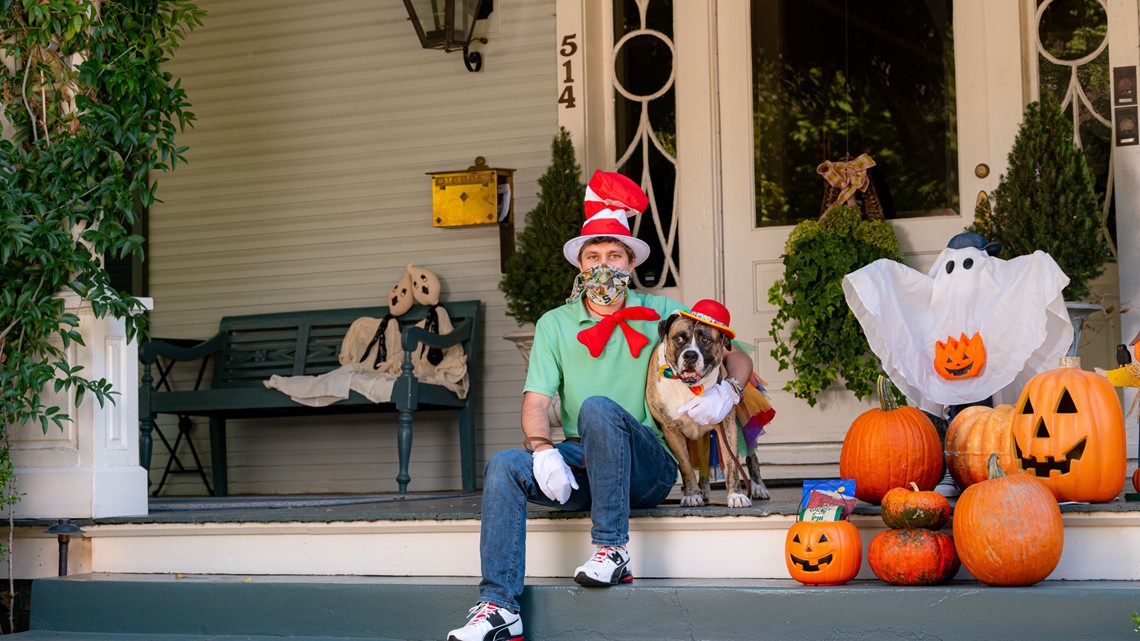 Chilly meets skeleton friends in the Old Town Historic District
Chilly is an energetic, medium sized, young adult neutered male. He is great with dogs and cats and exudes happiness. Chilly is very engaging with people but would prefer living with adults and older children. His foster parent will be happy to arrange a meet and greet. His adoption fee is only $10 for the "Find your BOO" special promotion. Animal ID# 518818. Chilly just wants to play, but these skeletons were hard at work! Pictured in front of the c. 1904 McGee House with foster parent Stephanie, Chilly got to peruse this Victorian dwelling's creative Halloween decorations up close and personal. These skeletons couldn't resist Chilly's charm and took a break to play and compliment him on his astronaut costume.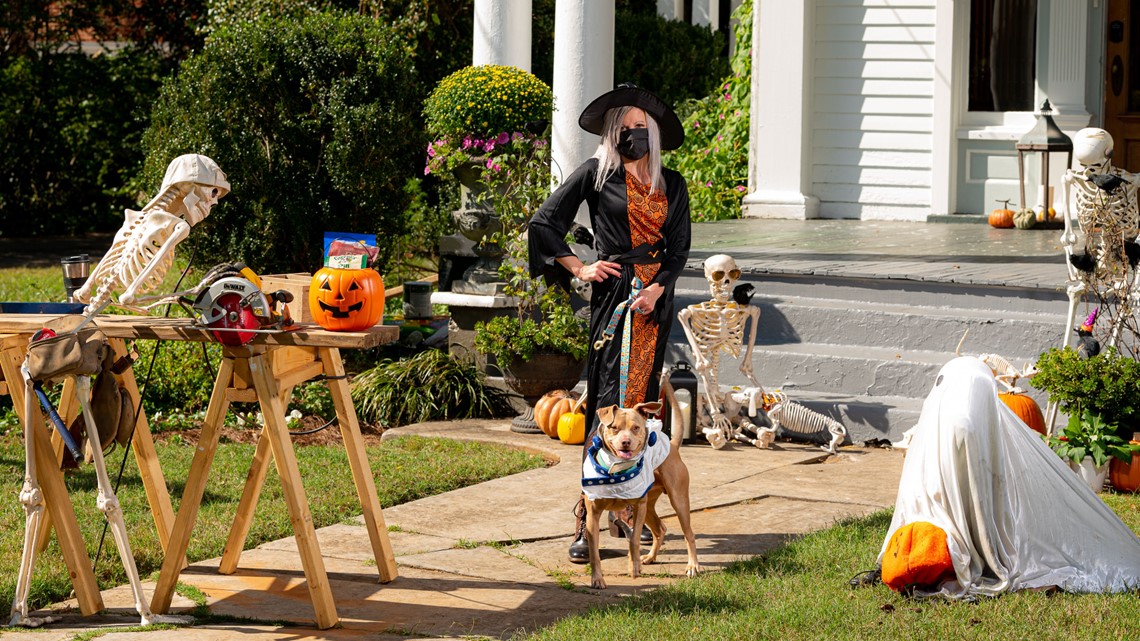 The truth is no animal deserves to be in the shelter, and Huntsville Animal Services has dozens of kind and cuddly pets available for adoption that would make great additions to your home and family.
Learn more about how to help Animal Services find forever homes for these four long-timers and all dogs at the Shelter by visiting HuntsvilleAL.gov/Animal.