Holiday events and activities across the Tennessee Valley
Holiday cheer is being spread across the Tennessee Valley with events for everyone to enjoy.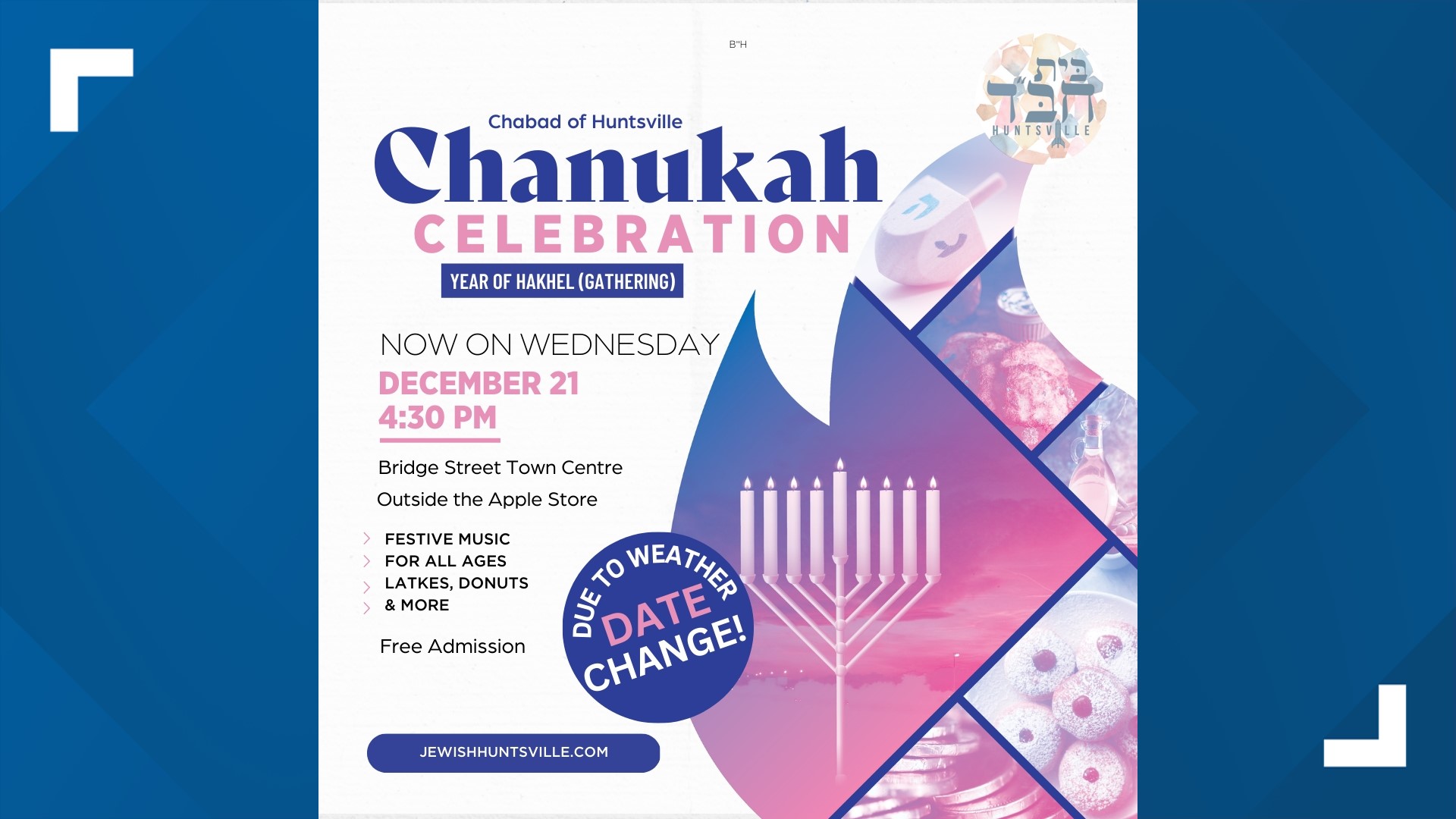 The holiday season is here and FOX54 is keeping you updated on the latest holiday events in your area! Find a local event to enjoy a cup of hot cocoa, ice skate, or even meet Santa Claus. The events on this page will be updated weekly so be sure to come back and find more holiday events near you!
Blount County
:
Events in Oneonta
Downtown Oneonta Christmas Festivities
When: December 2 through December 22
The heart of Oneonta is getting into the holiday spirit with a host of activities for everyone to enjoy. The festivities begin Dec. 2 and will take place throughout the month of December and include a live nativity, horse drawn carriage rides, holiday lights, visits with Santa, parades and lots of Christmas cheer.

The Community Arts Council of Blount Company (CACBC) presents the popular holiday movie "Polar Express" along with refreshments Friday, Dec. 2 at 6 p.m. and again Saturday, Dec. 3 with showings at 2 p.m. and 6 p.m. The CACBC Theatre is located at 6801 2nd Avenue West. Tickets may be purchased on the Blount County Arts website.

Twenty-five beautifully decorated Christmas trees will be lit Thursday, Dec. 8 at the community Christmas tree lighting ceremony in the gazebo area. The lighting countdown will commence at 6 p.m. and trees will be illuminated 24 hours a day through Jan. 1, 2023. The ceremony, from 5 to 8 p.m. also includes horse-drawn carriage rides, visits with Santa Claus, holiday music, festive firetruck rides by the Oneonta fire department, live nativity scene and snow. The gazebo is located at 1st Avenue East and 4th Street, in front of the angel wings mural.

Shoppers are encouraged to have their shopping lists prepared and make their way downtown Saturday, Dec. 10 for the City Christmas Market. Various vendors will be set up at Gazebo Green from 4 to 7 p.m. The second annual Christmas Creatures Parade will take place at 6 p.m. beginning at the library parking lot. Santa Claus will lead the way down 1st Avenue East to the City Market at the Gazebo. Horse-drawn carriages will also be available for free rides through downtown Oneonta from 6 to 8 p.m.

The Blount County Christmas parade takes to the streets Tuesday, Dec. 13 at 7 p.m. The streets of Oneonta this night will be filled with marching bands from all over the county, creative floats and more.

Two more shopping opportunities are available Dec. 15 and Dec. 22 from 5 to 8 p.m. during the Christmas in Oneonta night in the gazebo area. Restaurants will also be open and there will be free horse-drawn carriage rides, a live nativity (located at the angel wings mural), snow, fire truck rides by the Oneonta fire department and Santa Claus will be available in the gazebo for photos.
Colbert County
:
Events in Muscle Shoals and Sheffield


Christmas at the Ritz Movie Series
When: December 9, 13, 20 & 22 at 7pm
Where: Ritz Theatre, 111 W 3rd St, Sheffield
Watch your favorite Christmas movies on the big screen at the Ritz, which is decked out for the season. Concessions will be available, including fresh popcorn, hot cocoa, wine, beer, soda, water, and candy.
Each show starts 7 pm. Tickets ($10) available online or at the door. Call for group rates. See schedule below.
December 9—It's a Wonderful Life
December 13—Christmas Vacation
December 20—Elf
December 22—Disney's A Christmas Carol
Lawrence County
:
Events in Moulton and Hillsboro


Christmas on the Square
When: December 1, 2022 - January 1, 2023
Beginning Dec. 1, 2022, locals and visitors are invited to join in on the spirit of the holiday season with the annual Christmas on the Square, a magical stroll among a beautiful display of live Christmas trees trimmed in festive decorations.
The month-long event will take place on the historic old courthouse square in downtown Moulton, Alabama. Admission is free.
Christmas on the Square is a display of uniquely decorated Christmas trees, sponsored and decorated by individuals, groups and businesses from Lawrence County and the surrounding area. The trail also features various photo backdrops or selfie stations to document the Christmas experience.
The official Christmas on the Square tree lighting ceremony will be held Thursday, Dec. 1 at 7:00 p.m. to kick off the start of the 2022 Christmas on the Square season. The Moulton Christmas parade follows on Friday, Dec. 2 at 7 p.m. Additional activities are planned Friday, Dec. 9 and Dec. 16 at 6 p.m. and include carriage rides, live music, free hot chocolate, Santa Claus and a special holiday presentation of petting zoos by Woodruff Farms on Dec. 9 and Tiny Hiney's traveling farm petting zoo on Dec. 16.
Limestone County
:
Events in Athens
Athens Annual North Pole Stroll
The Athens-Limestone County Tourism Association will once again be bringing the North Pole to the historic Beaty District of downtown Athens. The annual December holiday event will be even grander as the city lights up an array of creatively decorated trees.
Close to 100 businesses, schools, non-profits and individuals will decide on a theme and decorate their own sponsored tree. The Athens theme this year is "Christmas in Candyland".
Everyone is invited to take a scroll throw the trees beginning on December 1st.
Madison County
:
Events in Huntsville
'Star of Bethlehem' at U.S. Space & Rocket Center
Experience the wonders of the season at the "Star of Bethlehem" show at the U.S. Space & Rocket Center's INTUITIVE® Planetarium. With a balance of science and religion, this show in the Rocket Center's visually stunning planetarium explores theories on the celestial phenomenon that may have led the Magi to the Nativity more than 2,000 years ago.
Shows are scheduled for Wednesday, Dec. 21; Thursday, Dec. 22; Monday, Dec. 26; Wednesday, Dec. 28; and Friday, Dec. 30. For more information and show times, visit rocketcenter.com.
Willowbrook Baptist Church Christmas Eve celebration
Willowbrook Baptist Church in Huntsville, Alabama is inviting the community to celebrate Christmas Eve at Milton Frank Stadium, with games, carols, and a short Christmas message topped with FIREWORKS! This may be one of the coldest Christmas Eve's on record in Huntsville, but this Willowbrook Christmas tradition, established in 2010, will go on. Dress for warmth, bring extra blankets, and come out and celebrate Christmas.
Stadium doors open at 4:15 pm on December 24. The one-hour program starts at 5:00 pm, with fireworks at 6:00 pm.
Chanukah Menorah Parade and Ice Skating Party
When: Tuesday, December 20
Where: Huntsville Middle School
The parade will be leaving from Huntsville Middle School on Adams Street. Parade line-up starts at 4:30pm and it will leave at 5pm. Lighting and Ice Skating will start at 6:00pm. Each car will get its own menorah and merch.
To RSVP visit the Chabad of Huntsville website.
Christmas Card Lane
When: Tuesday, December 20
Christmas Card Lane featuring life size Christmas cards will remain open through the remainder of the month with the final drive through night rescheduled to Tuesday, December 20.
Christmas on the River events are free.
Christmas on the River at Ditto Landing
When: Wednesday, December 21 at 7pm
With the forecast for inclement weather, Madison County Commissioner Phil Riddick and Ditto Landing Executive Director Brandi Quick have made the decision to move up the closing fireworks and festivities for Christmas on the River at Ditto Landing.
Closing fireworks will now be on Wednesday, December 21. The Reindeer Rails – the indoor holiday train and village display – will be open from 5-8 pm.
Christmas on the River events are free.
Chanukah Celebration
When: Wednesday, December 21 at 4:30pm
Where: Bridge Street Town Centre
The Chabad of Huntsville's Year of Hakhel gathering date has changed due to weather. It will now take place on December 21 at Bridge Street Town Centre. This free event will feature festive music, latkes, donuts, and much more for guest to enjoy.
For more information visit the Chabad of Huntsville website.
12 Nights of Santa at EarlyWorks Children's Museum
When: Monday, December 12 through Friday, December 23
Where: EarlyWorks Children's Museum
Children are invited to visit with Santa Claus and to enjoy an immersive holiday experience in downtown Huntsville.
During 12 Nights of Santa, the jolly old elf himself will be on hand each night to listen to children as they share their wish lists.
Additional family-friendly activities include nightly snowfalls, making holiday crafts, a holiday themed experiment in the all-new Tinker Lab, mingling with costumed characters like the Grinch and Olaf, decorating a fresh made gingerbread cookie, mailing letters to Santa and shopping in Santa's gift shop.
A limited number of tickets for the event will be offered online. This will be a timed entry, limited capacity event to ensure the safety and comfort of all involved.
12 Nights of Santa will be held nightly beginning Monday, December 12 through Friday, December 23 starting at 5 p.m. on weeknights and 3 p.m. on Saturday and Sunday.
Cost for 12 Nights of Santa is $12 per person for the general public and $10 per person for members.
Admission is free for children under one year old.