ALABAMA, USA — Summer time means cooking out. Cooking out means food...lots of food. But what do people actually want at their cookouts? Turns out, Twitter's got a pretty good idea.
Using geotagged Twitter data in the last month, food trend website smokedmeatsunday.com tracked tweets, hashtags, and direct keyword phrases about top cookout foods in every state. For example, #hotdogs, #hamburgers, #ribs, #potatosalad, etc. were reviewed, as well as keyword phrases such as "I love ribs," "I hate coleslaw," "I hate deviled eggs," "love fried chicken," "cookout hot dogs," "cookout ribs," etc. Over 300,000 tweets were tracked.
As you can see from the maps, Americans love meat, with the hot dog taking the top spot with 17 states. There are also clear regional preferences.

The state breakdown for favorite cookout foods are as follows:

Grilled Hot Dogs - 17
BBQ Ribs - 12 (including Alabama, Mississippi, Tennessee, and Florida)
Hamburgers - 9
Mac & Cheese - 8
Fried Chicken - 4 states

Lots of other foods were mentioned such as brisket, bbq chicken, and baked beans, but none of them beat out any of those 5 above in any state.

As for the most hated cookout items, 3 foods absolutely dominated; deviled eggs, potato salad, and coleslaw.

No other food came close to being disliked as much as those three. Alabama put potato salad at the top of the "No, thanks!" list.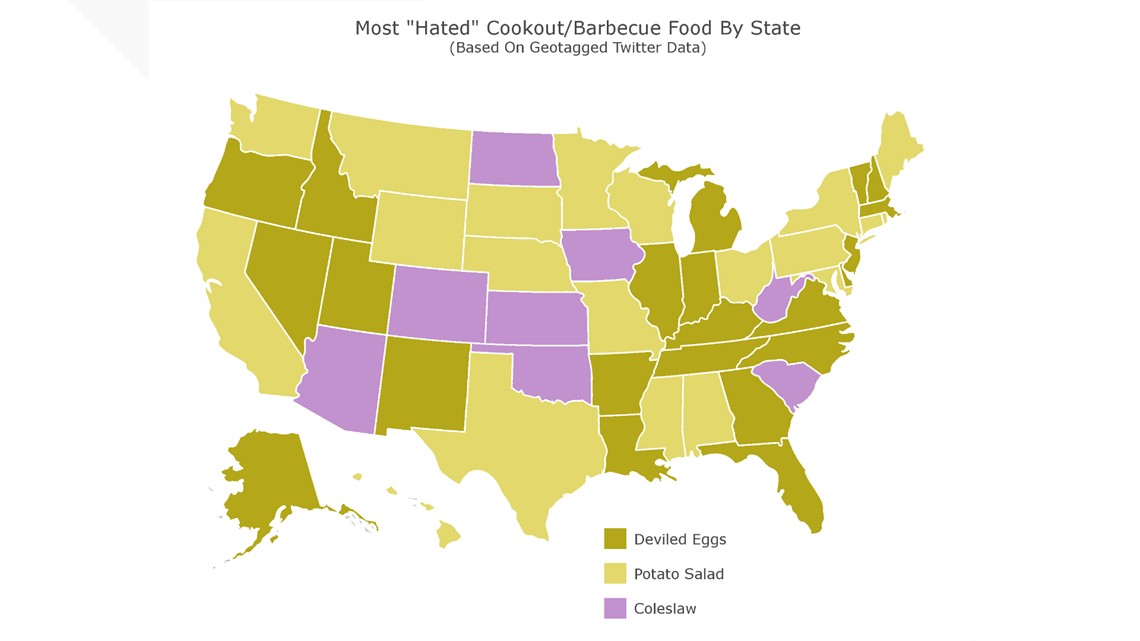 The state breakdown:

Deviled Eggs - 22 states
Potato Salad - 20 states (including Alabama and Mississippi)
Coleslaw - 8 states