Where to find emergency storm shelters in North Alabama
With the threat of severe weather in the Tennessee Valley, now is the time to plan where you can go for emergency shelter.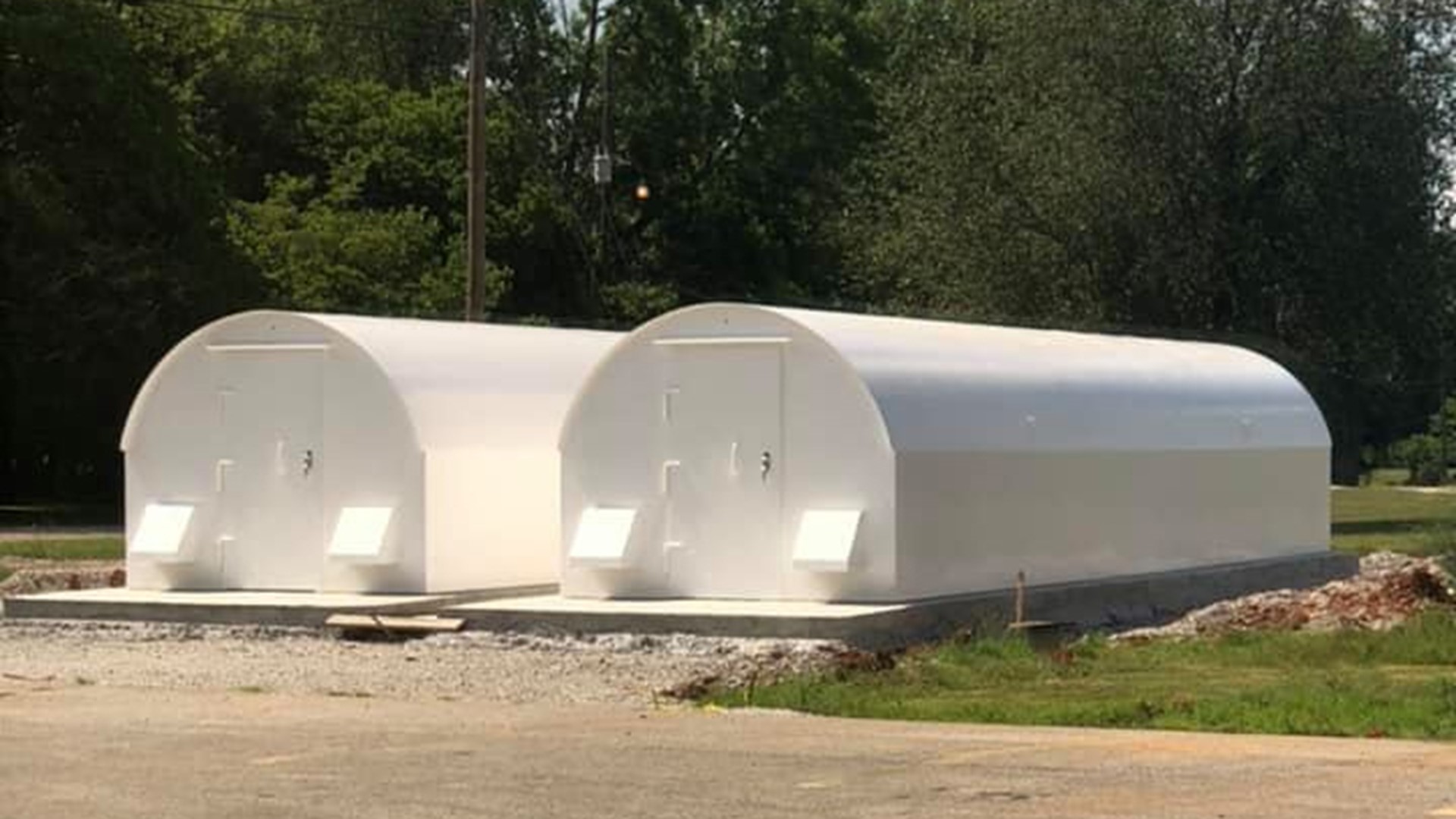 Not all shelters listed will open for all weather events. Make sure you know multiple locations in advance of severe weather.
County EMA's in all 67 counties provide information about shelters in their areas. Check their web sites.
Madison County
:
Storm shelters
Madison County:
Asbury Church Harvest - 8089 Wall Triana Highway, Harvest, Alabama 35748 (Pets allowed if crated)

Bobo Volunteer Fire Department - 7982 Old Railroadbed Rd., Ardmore, AL 35739

Gurley Rec Center - 311 3rd Street, Gurley, Alabama 35748

Good Shepherd United Methodist Church - 1418 Old Railroad Bed Rd, Madison AL 35757

Harvest Youth Club - 230 Lockhart Road, Harvest, AL 35749

Killingsworth Cove VFD - 876 Killingsworth Cove Road, Gurley, Alabama 35748

Maysville Community Shelter - 1076 Brownsboro Road, Gurley, Alabama 35748

Meridianville Volunteer Fire Department - 464 Patterson Ln. Meridianville, AL 35759

Moores Mill VFD - 7416 Moore Mill Road, Huntsville, AL 35811 (Pets allowed if crated)

New Hope - 5507 Main Drive, New Hope, AL 35760

Owens Cross Roads Town Hall - 9032 U.S. 431, Owens Cross Roads, AL 35763

Triana Community Shelter - 280 Zeirdt Road, Madison, Alabama 35758
Pet Friendly Madison County Storm Shelters:
Moores Mill VFD 7416 Moore Mill Road
Huntsville, AL 35811 Capacity: 180
Phone: 256-859-6350
Pets Allowed in Crates: Yes

Crosswinds United Methodist Church
8089 Wall Triana Highway
Harvest, Alabama 35748 Capacity: 400
Phone: 256-325-1550
Pets Allowed in Crates: YES Pets in crates in Hallway leading to Shelter
Morgan County
:
Storm shelters
Morgan County:
Austin High School, 3004 Modaus Road, Decatur (Only open during non-school hours)

Brindlee Mountain Volunteer Fire Dept 4373 U.S. Hwy. 231 Union Grove, AL 35175

Cotaco Volunteer Fire Dept 6463 Hwy. 36 East Somerville, AL 35670

Danville Volunteer Fire Dept 5798 Hwy. 36 W Danville, AL 35619

Decatur City Hall 402 Lee Street NE, Decatur, AL 35601 (dogs/cats may seek shelter at City Hall as long as pets are kept on a leash or in a crate. )

Decatur High School, 910 Somerville Road SE (Only open during non-school hours)

Eva Volunteer Fire Dept 4238 Eva Road Eva, Al 35621

Flint City Volunteer Fire Department 114 Oxmore Flint Rd SW Decatur, AL 35603

Hartselle High School 1000 Bethel Road NE Hartselle, AL 35640 (Only open during non-school hours)

Massey Volunteer Fire Dept 386 Evergreen Road Danville, AL 35622

Morgan County Courthouse Basement 302 Lee St. N.E. Decatur, AL 35602

Neel Volunteer Fire Dept 70 Neel School Road Danville, AL 35622

Oak Ridge VFD Station 1 200 NW Simmons Road Hartselle, AL 35640

Oak Ridge VFD Station 2 2580 Vaughn Bridge Rd Hartselle, AL 35640

Priceville High School, 2650 North Bethel Road, Decatur, AL 35603 (Only open during non-school hours)

Punkin Center Volunteer Fire Dept 116 Kirby Bridge Road Danville, AL 35619

Shorty Ryan Park 3824 Eva Road Eva, AL 35621

Somerville Community Shelter (1) 192 Broad St. Somerville, AL 35670

Somerville Community Shelter (2) 72 Cross Creek Loop Somerville, AL 35670

Somerville VFD, Station 2 122 Perkins Wood Road Hartselle, AL 35640

Trinity Town Hall 35 Preston Drive Trinity, AL 35673
Limestone County
:
Storm shelters
Limestone County:
Ardmore City Hall – 25844 Main Street

Ardmore Community Center – 29910 Park Avenue

Ark of Promise Athens – 15159 Browns Ferry Road

Clements Volunteer Fire Department – 9158 U.S. Highway 72 West

Cowford – 14008 Grover Drive, Athens

Elkmont Volunteer Fire Department – 19663 Sandlin Road

Goodsprings Volunteer Fire Dept. – 33634 AL Highway 99, Anderson

Lester Post Office – 30306 Lester Road

Owens Volunteer Fire Dept. – 17196 Glaze Road, Athens

Former Owens Elementary School – 21465 AL Highway 99, Athens

Pine Ridge – 10078 Settle Road, Athens

Oak Grove-Thach Volunteer Fire Dept. – 27718 McKee Road, Toney

Pleasant Grove Volunteer Fire Dept. – 9080 Upper Snake Road, Athens

West Limestone High School – 10945 School House Road, Lester (Only open after school hours to the public)

Wooley Springs Baptist Church – 26069 AL Highway 251, Elkmont

Hands Across Decatur Community Warming and Cooling Center - 1027 5th Avenue Southeast, Decatur
Lawrence County
:
Storm shelters
Lawrence County:
Moulton – 14201 Court Street

Moulton - 200 Almon Drive

Mt Hope - 3142 County Road 460

Veterans Park - 6229 County Road 214, Trinity

Red Bank - 1933 County Road 314, Town Creek

Courtland - 3581 Jefferson Street

Town Creek - 1025 Wallace Street

Hillsboro - 11720 Main Street

Speake - 6619 County Road 81, Danville

Hatton - 7044 Alabama Highway 101

Chalybeate - next to the Chalybeate Fire Station 69 County Road 296

Wren Community - 11440 Al Highway 33

Five Points Community - 7301 County Road 87

Loosier Community - 3157 County Road 150
Colbert County
:
Storm shelters
Colbert County:
Allsboro - 959 Old Natchez Trace Rd., Cherokee

Barton - 53 Plaza Court, Cherokee

Cherokee - 1211 2nd St., Cherokee

Maud - 535 Gypsy Loop, Cherokee

North Red Rock – 3364 Red Rock Road, Cherokee

Rose Trail Park - 43 Rose Trail Park, Cherokee

Abbie Church Site - 11214 6TH ST

LaGrange Community Shelter – 1648 Waldrep Loop, Leighton

Leighton Community Shelter - 8856 Main Street, Leighton

Underwood Crossroads - 12495 County Line Road, Leighton

Littleville - 1448 Jackson Hwy, Littleville

Colbert Alloys Park - 267 Alloys Park Ln, Muscle Shoals

Ford City - 14439 County Line Rd., Muscle Shoals

Nitrate City - 982 7th St., Muscle Shoals

Nitrate City Volunteer Fire Department – 1341 Alabama Avenue, Muscle shoals

NW Shoals Community College - 105 Student Dr., Muscle Shoals

Appleton AV - 309 Appleton Ave., Sheffield

Manning Homes - 2312 NW 15th St., Sheffield

Rivermont - 423 Pickwick St., Sheffield

Michael Johnson Rec – 1920 NE 29th Street, Sheffield

Charity Chapel - 2999 Frankfort Road, Tuscumbia

Colbert Heights High School - 1614 Sunset Dr., Tuscumbia

County Road Dept. - 2842 Highway 20, Tuscumbia

Trenholm – 914 South Hickory Street

Trenholm (Southside of Tuscumbia) - 914 S Hickory Street, Tuscumbia

Denton Road - 2844 Denton Rd., Tuscumbia

Highway 247 - 4651 Highway 247, Tuscumbia

Locust Shores - 74 Golden Rd., Tuscumbia

Spring Valley - 7147 Coburn Mountain Rd., Tuscumbia
Cullman County
:
Storm shelters
Cullman County:
Baileyton- Three shelters

112 Fairview Road

130 Cemetery Road

600 Fire Station Road

Berlin- 3584 US Hwy 278 E

Bethsadia- 454 Co Rd 804

Brushy Pond- 2729 Co Rd 143 Bremen (Brushy Pond Senior Center)

Chapel Village/Jones Chapel- 74 Co Rd 1034

Colony Senior Center- 12980 AL Hwy 91 S

Colony- 65 Byars Road

Crane Hill- Two shelters opened by Crane Hill Volunteer Fire Department

15140 Co Rd 222 (Senior Center)

15123 Co Rd 222 (Crane Hill VFD #1)

Cullman Senior Center- 1539 Sportsman Lake Rd

City of Cullman- Two shelters opened by Cullman Police Department

1511 Sportsman Lake Rd

1803 Beech Ave SE

Dodge City- 130 Howard Circle

Dodge City Volunteer Fire Department- 7150 Co Rd 223

Fairview Housing Authority- 96 Countryside Acres Rd

Garden City- 501 1st Ave SW

Good Hope- Two shelters

301 Day Gap Rd.

301 Municipal Drive

Gold Ridge- 5225 Co Rd 1545

Hanceville- Three shelters

202 Bangor Ave

203 Michelle St NW

1407 Commercial Street

Hanceville Senior Center- 1500 Spruce St SE

Holly Pond- 60 Finley Rd

Logan- 4203 Co Rd 818

Smith Lake Park- 416 Co Rd 385

Stony Lonesome OHV- 10075 AL Hwy 69 S (2 units)

South Vinemont- 60 Ridgeway St

Vinemont/Providence Volunteer Fire Department #1- 576 Co Rd 1355

Walter Volunteer fire department- 32655 AL Hwy 91

West Point- Two shelters

3990 Co Rd 1141

11160 AL Hwy 157

Franklin County
:
Storm shelters
Franklin County:
Russellville Park and Rec - 201 Ash Avenue

Old Jr. High School Lot - 511 Gains Avenue

Russellville Fire Station 2 - 15938 HWY 43 N

Westside PLZ Apartments - 1100 Adams Avenue

Russellville Courthouse - 410 Jackson Avenue N

Russellville United Methodist Church - 311 Jackson Avenue N

Chucky Mullins Center - 442 Hamilton Street

Blue Springs Fire Department - 3001 HWY 75

East Franklin - 10365 HWY 81

Gravel Hill Fire Department - 3675 Gravel Hill Road

Union Community Center - 5588 HWY 93

Tharptown Fire Department - 23 HWY 93

Belgreen Fire Department - 14141 HWY 524

Burnout Fire Department - 75 HWY 224

Frankfort Fire Department - 7464 HWY 41

Frog Pond Fire Department - 5215 Highway 22

Spruce Pine Community Center - 9312 HWY 22

Behind Hodges City Hall - 1842 HWY 172

Pleasant Site Fire Department - 2785 HWY 90

Vina Fire Department - 79 Chruch Street

Payne Creek Est. - 575 Highway 48

Town and Country - 27630 Highway 24 E.

Phil Campbell Community Center - 132 Sherry Bryce Drive

Bedford Sports Complex - 351 Highway 63

Phil Campbell City hall - 580 Railroad Street

Stalcup Circle - 19 Stalcup Circle

Nix Road Housing Authority - 3643 Nix Road

Pinion Drive Housing Authority - Pinion Drive

Tiny Tigers Preschool - 1100 4th Street NE

Red Bay Methodist Church - 509 4th Street SW

Red Bay Water Park - 640 2nd Avenue NE

Old Airport - 627 9th Avenue NW
Dekalb County
:
Storm shelters
Dekalb County:
City of Crossville - 14521 AL 68

City of Henagar - 1106 Greenbriar Drive

TOWN OF Ider *SAFER SPACE* - 10808 AL HWY 75

Town of Powell - 110 broad St N

City of Rainsville - 76 Chavies Road

Town of Shiloh - 2489 Main St, Rainsville

Town of Fyffe - 514 Campbell Street

Town of Geraldine - 41303 al Hwy 75

TOWN OF Sylvania - 14 ENTERPRISE ST

Upper Sand MTN Parrish - 22474 al Hwy 75, Sylvania

TOWN OF VALLEY HEAD - 9600 Alabama 117

Dekalb County Courthouse tunnel *SAFER SPACE* - 210 Grand Avenue SW, Fort Payne
Lauderdale County
:
Storm shelters
Lauderdale County:
Bank Independent - 11250 Hwy. 101, Lexington

Rogersville - 36 Wheeler Street

Elgin United Methodist Church - 2743 Hwy 101, Elgin

First Baptist Church of Anderson - 245 Church St., Anderson

First Baptist Church of Rogersville - 222 College Street (County Road 26), Rogersville

Killen United Methodist Church - 201 J.C. Mauldin Hwy. Killen

Killen Church of Christ - 1560 HWY 72

Lexington Town Hall (Old Vault Area) - 11060 Hwy. 101 (Don Michael), Lexington

North Wood United Methodist Church -1129 Wills Avenue (Behind Wok-n-Roll in North Florence, next to SunTrust Bank) Florence

Oakland Methodist Church, - 24305 Lauderdale County Highway 14, Florence

Petersville Church of Christ - 3601 Cloverdale Rd., Florence

Pleasant Hill United Methodist Church - 2705 County Rd 222, Florence

Rogersville – 2743 Highway 101

Rogersville Church of Christ - 450 College Street (County Road 26), Rogersville

Rogersville United Methodist Church - 51 Turner Lindsey Rd., Rogersville

Underwood/Petersville Community Center - 840 County Road 7 (Section Line Road), Florence

Williams Chapel Presbyterian Church - 6401 County Road 1 Waterloo

Waterloo – Lauderdale County Highway 45/Pea Ridge Road (One block west of Main Street downtown)
Jackson County
:
Storm shelters
Jackson County:
Bridgeport - Shelter #1 - 602 Broadway Ave., Bridgeport, AL 35772

Bridgeport - Shelter #2 - 2101 5th St., Bridgeport, AL 35772

Bridgeport Elementary School - 1014 Jacobs Ave, Bridgeport, AL 35740

Bridgeport Middle School - 620 Jacobs Ave, Bridgeport, AL 35740

Bryant Elementary School - 6645 Alabama Highway 73, Bryant, AL 35958

Dutton Elementary School - 180 Main Street, Dutton AL 35744

Earnest Pruett Center of Technology - 29490 U. S. Highway 72, Hollywood, AL 35752

Flat Rock Elementary School - 788 County Road 326, Flat Rock, AL 35966

Higdon Park Storm Shelter - 28424 Al. Highway 71, Higdon, AL 35979

Hollywood Elementary School - 6369 County Road 33, Hollywood, AL 35752

Jackson County Courthouse - 102 E. Laurel St., Scottsboro, AL 35768

Langston - 9277 County Road 67, Langston, AL 35755

Macedonia Elementary School - 196 County Road 49, Section, AL 35772

North Jackson High School - 45549 Alabama Hwy 277, Stevenson, AL 35772

North Sand Mountain High School - 29333 Alabama Highway 71, Higdon, AL 35979

Paint Rock - 3881 U. S. 72, Paint Rock, AL 35764

Pisgah High School - 60 Metcalf St., Pisgah, AL 35765

Pisgah - 6209 County Road 88, Pisgah, AL 35765

Princeton Park Storm Shelter, 325 County Road 3, Princeton, AL 35766

Rosalie Elementary School - 162 County Road 355, Pisgah, AL 35765

Section High School - 141 Alabama Highway 71, Section, Al 35771

Skyline High School - 897 County Road 25, Scottsboro, AL 35768

Stevenson - Shelter #1 - 802 Kentucky Ave., Stevenson, AL 35772

Stevenson - Shelter #2 - 905 E. 2nd St., Stevenson, AL 35772

Stevenson - Shelter #3 - 107 Tennessee Ave., Stevenson, AL 35772

Stevenson Elementary School - 930 Old Mt. Carmel Rd., Stevenson, AL 35772

Stevenson Middle School - 701 Kentucky Ave. Stevenson, AL 35772

Woodville High School - 290 County Road 63, Woodville, AL 35776
Marshall County
:
Storm shelters