HUNTSVILLE, Ala. —
Some "mothers-to-be" from right here in the Tennessee Valley are traveling to different cities to give birth due to COVID-19 changes.
They say it's because their doulas aren't allowed in the delivery rooms in some of the major hospitals here, and one group is calling out Huntsville Hospital Systems to make a change to their COVID-19 policy that only allows maternity patients to have one person accompany them within the hospital.
Monica Baker drove to Birmingham to give birth in a hospital that allowed her doula to be present. She says, "With COVID, I mean, I can't imagine not having a doula. I mean, it was so scary. Having a baby for the first time was terrifying."
We talked with the new mom, who gave birth in late June, as she feeds her child in the backseat of a car on the way back to the Valley from Birmingham-- again. She leaves her "follow-up" appointment. Baker says she planned on giving birth locally. But, that all changed when she found out she couldn't have her doula there for support.
Baker says she was scared to give birth elsewhere, because she had already built such a great relationship with her doctor in Huntsville. She tells our reporter, "I would've stayed with him if I would've been able to have a doula in the delivery room.
Baker ended up having a c-section and a difficult trip down to Birmingham for the delivery. She says the stress has taken its toll. She adds, "I might not have postpartum psychosis and I might not have been at risk of harming myself and my child if I would've been able to have a doula."
We caught up with Sally Miskelly of Alabama Cohosh Collaborative. She says they've been hearing of more women leaving the area to have babies during the pandemic. Miskelly adds, "If the patient is paying for a doula and they've been through all their prenatal care with them and they want them to be there through the whole delivery… You can imagine someone might choose to go and deliver at a hospital that will allow their doula to be there."
Alabama Cohosh Collaborative has launched a petition directed toward Huntsville Hospital. It calls them to allow doulas into delivery rooms for women giving birth during the pandemic-- granted, doulas pass necessary health screenings.
Miskelly tells our reporter, "[Doulas lower] disparities, [they're] better for patients, especially when we're talking about birth doulas…"
Huntsville Hospital sent a statement in response on Wednesday saying they will still continue to only allow one person to accompany a maternity patient.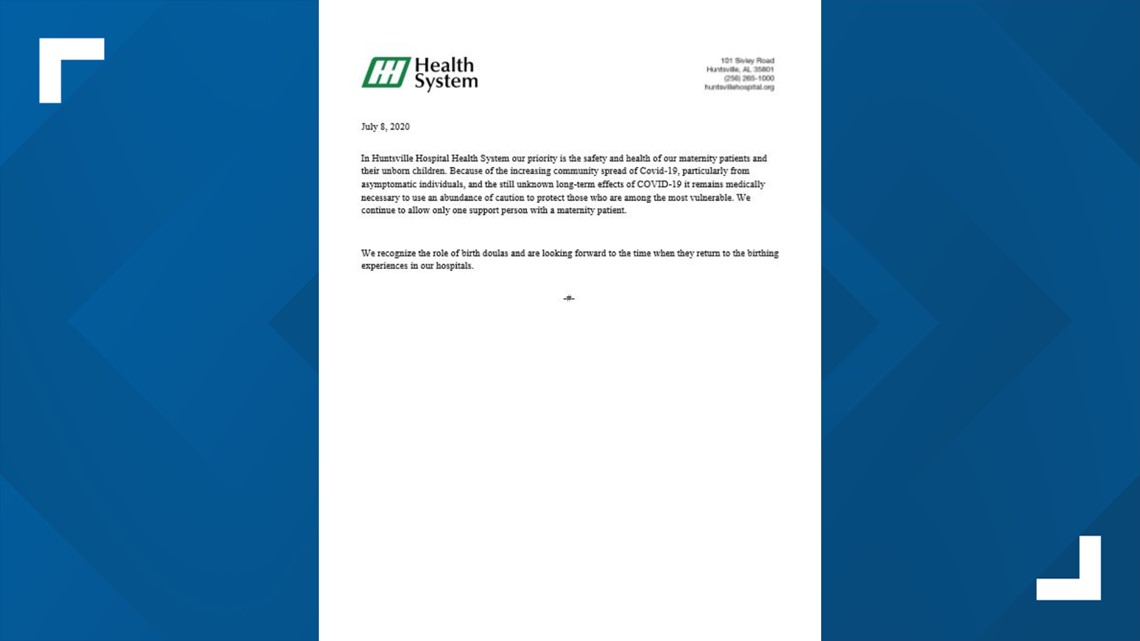 Miskelly comments, "... Which is kind of a hard choice if you're a laboring person. If you have to choose between your partner/ your spouse and a support person, that's a difficult choice."
Huntsville Hospital's statement also reads: "Because of the increasing community spread of Covid-19, particularly from asymptomatic individuals, and the still unknown long-term effects of COVID-19 it remains medically necessary to use an abundance of caution to protect those who are among the most vulnerable."
Monica Baker says it's time for change. She adds, "Huntsville is just behind. Behind the times. And it's hurting women and it needs to change...."