HUNTSVILLE, Ala. — Meet Brianna Stuart and Julie Phoenix! Brianna is a resin artist and abstract painter. Julie works in watercolor. Both came to Huntsville from other places. Although their paths to art were very different, they share a love of creating with pride.
Brianna Stuart of Art & Smiles loves music and always has it on when she's working. She found her way to resin art during the pandemic. "I was just bored, locked up in the house during the pandemic and I was scrolling on TikTok and saw resin art and was like, 'That looks really fun!'," she said.
Stuart was born in D.C. and identifies as bisexual. "I always thought there was gay or straight. I didn't know there could be variants in between." She came out about four years ago and is now 29, married, with kids. Art is her outlet. She says, "I can go to my art and just kind of just zone in and that's my thing. I slowly kind of just got into it and I figured it out. [I have] fun with this and it doesn't have to be so structured and things like that."
Julie Phoenix of Julie Phoenix Art always has a candle lit when she's working on her art. She discovered her love of watercolors while she was working as a librarian. "I just started with the liquid watercolors with all ages...I loved watching the little three to four-year-old group play with them...they just they're not afraid of the blank page at all."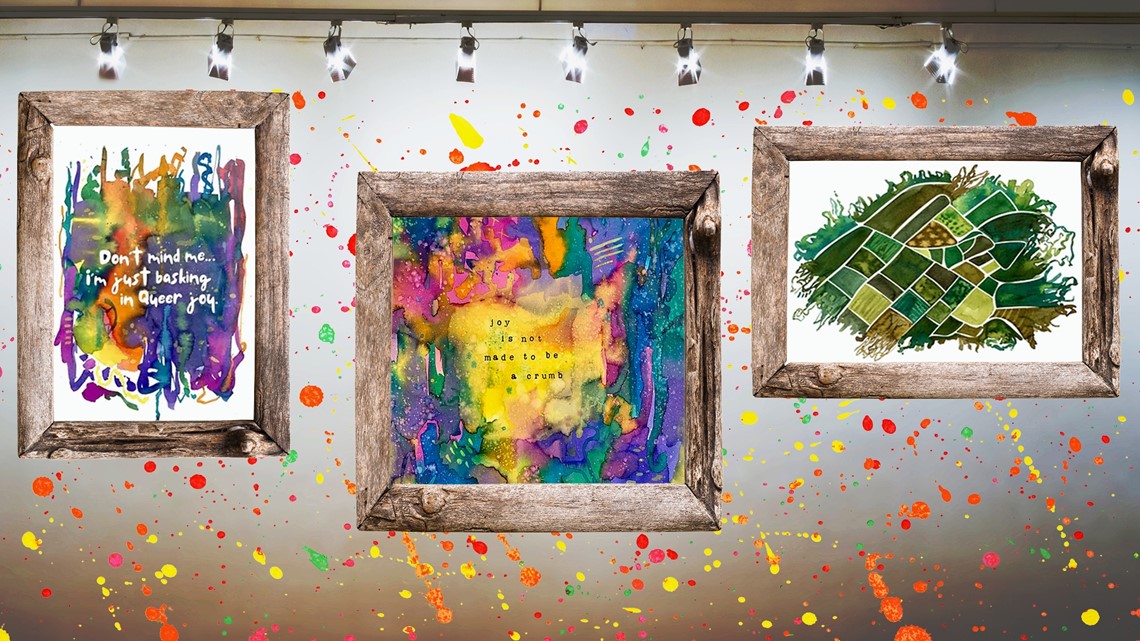 Phoenix was born and raised in St. Louis and lived there until she moved to Huntsville. She identifies as a lesbian but came out later in life. She's now married to a family she started before.
"I was 34 when I came out. Yeah, and I'm almost 45. I get a little bit emotional about it because it was such a hard time."
But when she connects with the canvas, "I do feel so authentically connected with my, myself whenever I am painting with watercolors, it's just the letting go and just being completely who you are in that moment."
And they share a philosophy about art, that there's no bad art. It's all good art. It's all amazing art. And there's no wrong way to make art.