ATLANTA — A new statue honoring an Atlanta civil rights icon and women's rights trailblazer was unveiled Downtown on Wednesday.
Xernona Clayton, a Civil Rights Movement luminary, broadcast TV pioneer and philanthropist will be honored with the statue. On International Women's Day, it unveils at the corner of West Peachtree and Simpson Street, an area already designated as Xernona Clayton Plaza.
The 8-foot statue will "serve as a special reminder of the invaluable contributions Xernona Clayton has made to the City of Atlanta, the state of Georgia, and the world," according to the committee that worked for its placement.
"I'm awed by it all," Clayton said. "The mere fact it's come to this, that people wanted to create something for me. This is not something I asked for. This came from well-wishers, people who think I've done something. I'm flattered and honored by the results. I'm speechless today."
Ed Dwight, the sculptor of the statue, has done work on 10 other statues across Atlanta and more than 100 nationwide.
"She sent me about 300 pictures of her for me to choose from," Dwight said. "We jointly decided on this pose. She's really demanding in a loving way and all that kind of stuff. I was totally inspired because this is probably the last memorial I'll ever do."
Dwight said he opted to make the statue white because he believe it personified Clayton's essence and outfits. The statue is made of textured bronze and rests on a black-green granite base. It took nine months to complete, according to the project manager.
"It makes people go back through the history books, look around and say what happened, what did she do? They're inspired to get things done, and that's what this is all about," Dwight said. "That's what public art really is all about – bringing people's attention to something that happened here."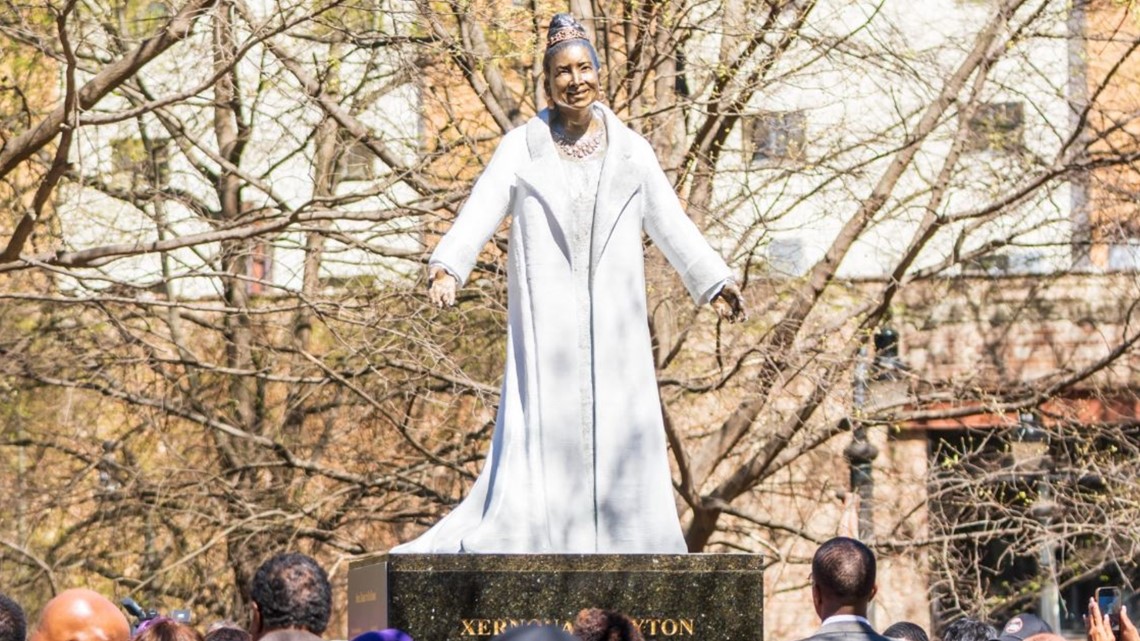 Rick Baker and Mariela Romero envisioned the project and approached Clayton about it during the pandemic. Romero said she was impressed by Clayton as a journalist exposing disparities in pay among minority communities.
"When people learn the first Black woman to be on television in the south, her contributions to desegregating hospitals in the United States, her contributions in making the City of Atlanta desegregated as well, she has created the blueprint on how to do it," Romero said. "They will get that wealth of knowledge and be inspired by her, and the luckiest thing is that someone sees the statue and meet her in person, and realize sometimes, it's a good idea to meet your heroes."
Clayton, 92, got her footing in the Civil Rights Movement with the Southern Christian Leadership Conference in the mid-60s, working with Dr. Martin Luther King, Jr. and traveling extensively with Corretta Scott King.
In 1967, she became the first Black person with her own television show in the south, and she later worked for Turner Broadcasting for three decades - rising to the company's executive ranks.
Xernona Clayton Plaza was dedicated in 2011, and she has been the recipient of numerous other awards and tributes. Her philanthropy includes creating the Trumpet Awards to commemorate Black humanitarian achievements as well as accomplishments in media and the arts.
The committee, which worked to establish the statue, notes one of the contemporary events that marks her lasting impact: "Her persistent fight against the dragons of prejudice and bigotry was never more apparent than in 1968 when the Grand Dragon of the Ku Klux Klan denounced the Klan and credited Xernona's influence with his change."
"Feed the hungry, clothe the naked, be kind to your neighbor," Clayton said. "That's the kind of life I have tried to live. If it brings me to this result, I'm flattered and honored and humbled. Home always has a special place in your heart. But it doesn't matter the location. Do good and try to help others, improve your neighborhood, improve your friends, broaden circles, increase your support to help other people."