KNOXVILLE, Tenn. — When veterans come home from something traumatic, Irreverent Warriors coordinator Christine Shawhan said they tend to isolate themselves.
On Saturday, hundreds of people in Knoxville took a hike from XUL Beer Company to spread awareness for veterans who die by suicide. They lined up with flags, music, and backpacks and headed out to their first destination.
One veteran dies every 65 minutes because of Post-Traumatic Stress Disorder, according to the Military Veteran Project. This is the fourth year the Irreverent Warriors nonprofit has hosted the hike. They said they want to help improve mental health through camaraderie and humor.
"Isolation is really what is the killer, and they get inside their own head, and they feel like they're alone and that no one's going to understand them," Shawhan said. "When we bring our veterans together like this, we're able to break down those walls."
In the last few years, Shawhan said she has seen veterans reach out to their friends who may be struggling. Sometimes, all it took was waiting until the next day to join the hike to help them turn around their battle with mental health.
Hiking boots marched around Knoxville in solidarity with veterans struggling with mental health issues. They have several stops along the way. There's food and refreshments waiting for the hikers at every stop.
"We show each other love, we show each other grace," Shawhan said.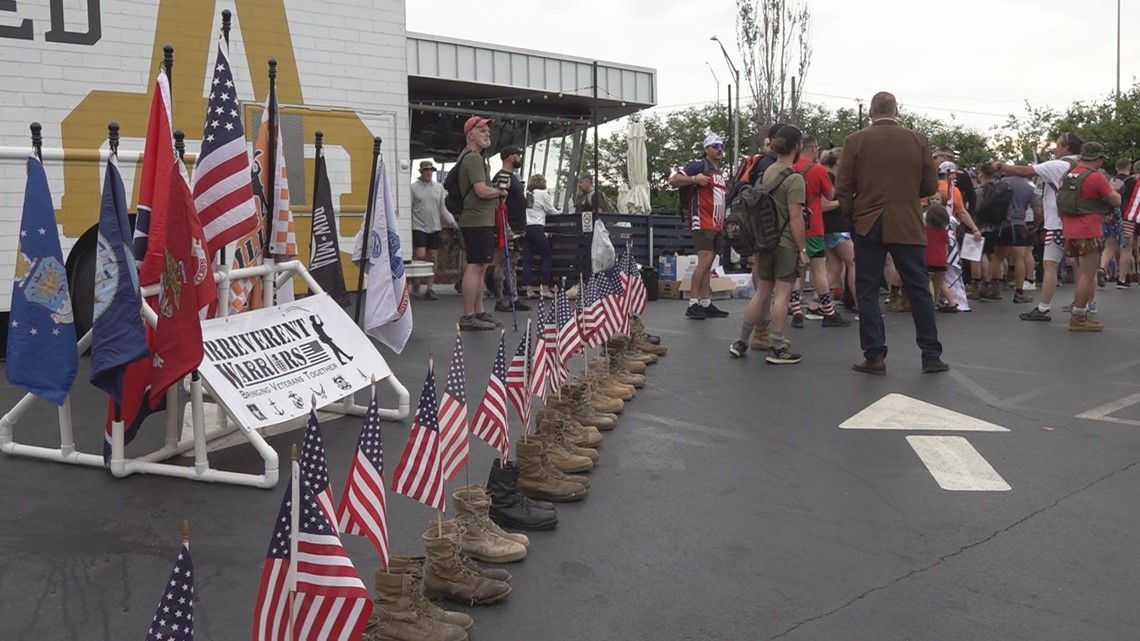 Last year, they had around 139 hikers and 20 volunteers. This year, they grew to more than 200 hikers and 30 volunteers.
Dominic Jensen, a veteran who was in Camp Pendleton, said he had dealt with mental health issues while he was serving. Yet, he didn't seek out help until he got out of the Army.
The hike includes clapping, music and empowerment.
"You're taught to be tough," Jensen said. "You're taught to fight and you're taught to kill, you don't talk about your feelings. You just don't do that."
Knox County Mayor Glenn Jacobs said this issue hits home because his dad was a 21-year military veteran himself.
Jacobs said it has been long overdue to break the stigma and he said spreading awareness matters. From healing the wounds that are visible to the ones that we cannot see, suicide among veterans has been an issue.
"Anything that we can do, again, to try to diminish that stigma, I think it's really important," Jacobs said. "But also to tell folks, 'Hey, we've got your back.' But you've got to let us know, and too often I think people try to deal with this stuff alone. And that's very hard, you don't have to when you have so many people that care about you."
In memory of the veterans who are gone, many hikers wore tags with their names on them. The hike is dedicated to them.
The pain for the people who are left behind is huge. None of the people who were wearing those tags were willing to speak about them. The few I spoke to said they wanted to keep all their strength for this hike to honor the one they had lost.
Twenty-two pairs of boots, each holding a flag that waved as if saluting the people around them, were lined up as a memorial in downtown Knoxville. Thomas Welsh, a veteran of the Air Force, said those are not just boots.
"Those were human beings, I think it's important to remember what they did and what they sacrifice so that we can have freedom," he said.
The hiking coordinator said the vision for this organization is to grow more and spread across the U.S. They want to have help available in every city, in every place.
"Please do not hesitate to reach out to us," Shawhan said. "We love you. You are needed. Tomorrow needs you so just please wait."
Anyone facing mental health issues, or who simply wants to talk about something on their mind, can reach out to teh Tennessee Suicide Prevention Netowrk by valling 855-274-7471, or by calling 988.