UPDATE- On Friday, Birmingham Police released video surveillance footage from within the Tom Brown Housing Complex they say was taken at about the same time as Kamille "Cupcake" McKinney was reported missing.
During Friday's press conference, Chief Patrick Smith reported that the search has been ongoing with multiple agencies. He also showed video surveillance footage taken near the time of Kamille's disappearance with narration. Smith noted that there is a 37 minute difference between the time stamp on the video and the video of what occurs and they are trying to identify a specific individual in the video.
The video was later posted by itself on Facebook. They say that they need the help of the first man in the video and ask him to please call the Birmingham Police Department at 205-254-7777. Police do not have any other identifying information on the man.

Police want to speak to him as he may have information or may have seen something critical to the investigation. Chief Smith said that they believe they know who the second man is and he is a suspect. He also said that they believe Kamille was one of the children in the video, and while they believe they know who the second child is, they are not releasing that child's name.
This is the last known location where police could determine Kamille "Cupcake" McKinney was.
The police department is also looking for volunteers on Sunday to help conduct a grid search in an area in Birmingham known to be frequented by a person of interest. He said that the search is being done one Sunday to allow searches already underway to be completed and because of expected weather conditions. More information on this will be forthcoming and WZDX will share this when it becomes available.
---
Still no word tonight on where little Kamille "Cupcake" McKinney may be.
Hopes were raised earlier this week when Birmingham Police got a tip to search an apartment complex near where Kamille was taken, but nothing was found.
Police want whoever has Cupcake to drop her off at a safe place, like a police department or fire station. Birmingham Police confirmed publicly Friday that the reward for her return is now $25,000. $20,000 is from Crimestoppers, $5,000 has been pledged by Governor Kay Ivey. They did not address the private citizen reward.
Meanwhile, two persons of interest were arrested on unrelated charges. Patrick Stallworth was arrested for possession of child pornography. Derick Brown was arrested on a probation revocation for a previous kidnapping charge.
Stallworth has been released on bond.
Anyone with information on where Cupcake could be is asked to call police, 911, or Crimestoppers at 205-254-7777. Callers can remain anonymous.
---
According to Birmingham Police, Kamille "Cupcake" McKinney has not been found. The extensive search at the apartment complex did not yield any new clues to the little girl's wherabouts.
Crimestoppers is offering a $20,000 cash reward for tips and information leading to the closure of this investigation. The safe return of Cupcake and her safe passage are their goals. Police are asking the person or person who has Cupcake, or anyone who recovers Cupcake, to take her to a nearby fire station or Police Department and not to place her in harm's way.
The Top Hotline for Crimestoppers is 205-254-7777.
Latest from the Birmingham Police Department:
Latest from the Jefferson County Sheriff's Office:
---
UPDATE: It been nearly three days since 3-year-old Kamille McKinney was abducted while at a birthday party in Birmingham.
Now, authorities are offering a $5,000 reward to anyone with information. During a press conference Tuesday, the Birmingham Police Department also say a private citizen added $1,000 to that reward, bringing the total to $6,000.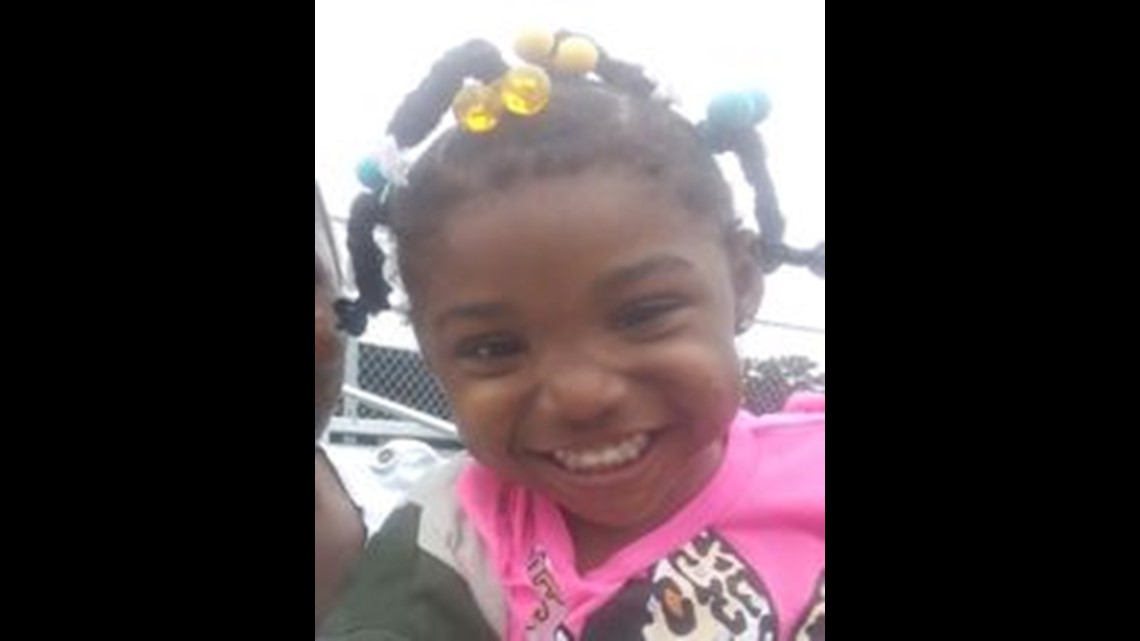 Investigators say they are questioning two people, but they have not made any arrests. It is not known if those people were the same ones in the vehicle when Kamille was taken.
---
Birmingham Police and ALEA are still searching for a missing 3-year-old girl who they say is in "extreme danger."
The AMBER Alert has been expanded to surrounding states.
Kamille "Cupcake" McKinney is a black 3-year-old girl, about 3 feet tall weighing 60 pounds, with brown eyes and black hair.
She was last seen wearing a pink t-shirt with a Minnie Mouse leopard design, leopard print shorts and yellow, white, and blue hair bows at the Tom Brown Village housing community around 8:30 p.m. on Oct. 12. She is believed to be in extreme danger.
According to Birmingham Police, the Toyota Sequoia believed to have been involved in the abduction was found after tips from citizens in the community. Two persons of interest were also questioned. The Birmingham Police Chief says that multiple agencies are involved in the investigation and that they are following every lead.
If you have any information, contact Birmingham Police at 205-254-0841, Crimestoppers at 205-254-7777 or 911.